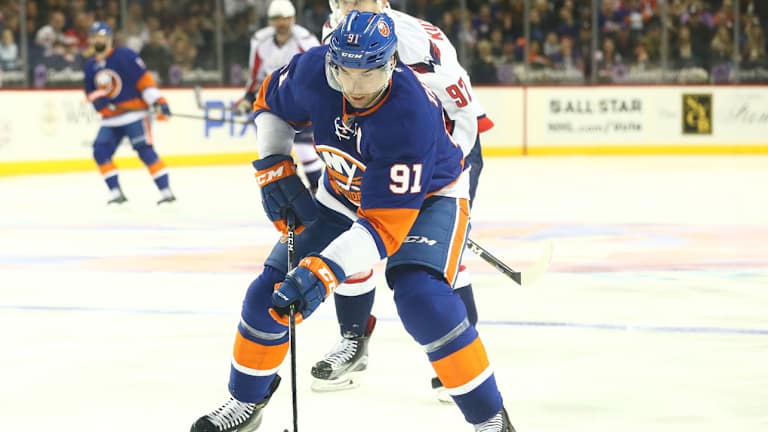 Eateries Trying to Help Woo John Tavares With Offers of Free Food
When it comes to free agency, John Tavares has plenty of options, and those include some offers of free food for life.
When it comes to free agency, John Tavares has plenty of options, and those include some offers of free food for life.
While John Tavares listens to pitches from NHL teams all trying to woo the pending free agent, the star center will have plenty of food for thought.
Among the offers that Tavares can weigh are free bagels, courtesy of Islanders fan Donald Rosner, owner of the area's Bagel Boss franchise, who took to Twitter to make his deal:
Also giving Tavares options to chew on come from a pair of Chicago-based eateries: Declan's Irish Pub is offering the forward free food and drinks for life, while Armand's Pizzeria is willing to fork over chicken parm in addition to pies on the house.
Whether or not Tavares himself has seen the proposals is unknown, but it's only a matter of time: Rosner sent bagels to the office of Tavares's agent Pat Brisson ahead of meetings with teams. And yes, they'll be Islander orange-and-blue.
While the Islanders have spent the last few weeks reconfiguring themselves—they hired Lou Lamoriello as their GM, added Barry Trotz behind the bench and followed those moves up with an exceptional draft, Tavares's status as a pending free agent on July 1 remains as the biggest to-do on their offseason checklist.
In Standout Rookie Season, Islanders' Mat Barzal Found a Passion for Style
Tavares, the No. 1 pick in the 2009 draft, has spent his entire nine-year career with the Isles, posting 272 goals and 621 points in 669 games. He has no shortage of suitors around the NHL, and will listen to pitches from five teams, rumored to be a mix of any of the Sharks, Maple Leafs, Lightning, Golden Knights, Stars and Bruins in addition to the Islanders.
"I'm a huge Islanders fan. I want John Tavares to be an Islander," Rosner told NHL.com. "But I'm getting nervous about why he hasn't signed yet. We have Lou Lamoriello. We have Barry Trotz. I want him to be here. So I thought, 'What can I do?'"
Offering bagels was a pretty good place to start for Rosner, who has seen the hashtag #Bagelsfor91 trend on Twitter, with all the requisite GIFs, memes and t-shirts that followed.
Regardless of what happens between now and then, Rosner is adamant that's he's made his best push to keep his team's captain, but if he decides to go elsewhere, bygones will be bygones.
"If he leaves the Islanders, it will kill me," Rosner said, "but I want him to be happy. And if he is happy playing somewhere else, I will still be a fan of his."