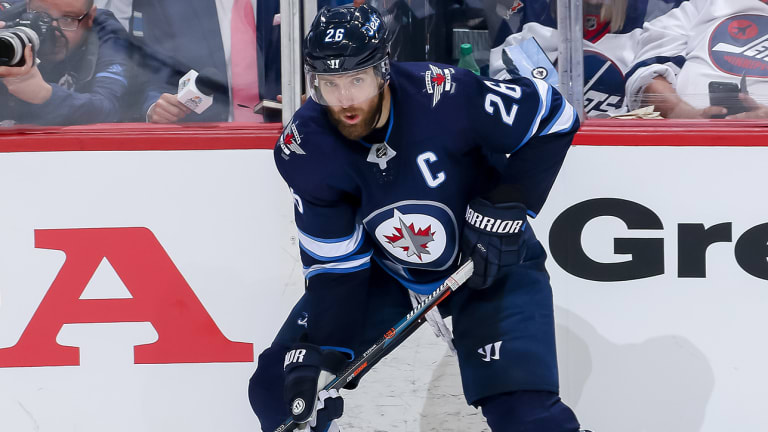 Jets Continue to Lock Up Core by Signing Blake Wheeler to Five-Year Extension
Winnipeg Jets signed captain Blake Wheeler to a five-year extension that will take him through the 2023-24 season, representing a significant bump from his current $5.6 million cap hit, going up to a $8.25 million AAV.
It's been a busy summer for the Winnipeg Jets, but it means big things for the franchise's future.
On Tuesday the Jets signed captain Blake Wheeler, coming off a career-high 91 points in 2017-18, to a five-year extension that will take him through the 2023-24 season.
The new deal kicks in for the 2019-20 season and will represent a significant bump from his current $5.6 million cap hit, going up to a $8.25 million AAV. Early reports have the deal carrying a modified no-trade clause and a no-movement clause, as well.
Mark Scheifele Calls Jets Teammate Blake Wheeler One of the NHL's Most Underrated Players
The extension comes on the heels of the best season in Winnipeg's young history, in which the team finished second in the Central Division, defeating Presidents' Trophy winner Nashville in the playoffs and advancing to the Western Conference Final before falling to the Vegas Golden Knights. Wheeler's career-high 68 assists tied him for the league lead, with the total including an NHL-best 48 primary helpers. He scored 23 goals during the campaign to reach the 20-goal plateau for the fourth straight season and was a runner-up for the Mark Messier Leadership Award.
"Where I'm at in my career, with my age, I feel like my best years are ahead of me," Wheeler told media on Tuesday. "I wanted to give those years to this organization and hopefully push this team to the championship levels. That's what you're buying into and, certainly, we have a ton of work to do to get to that point. 
"To finally kind of get over the hump a bit and have some success and play some really meaningful, fun hockey last spring, it just makes you hungry for more," Wheeler said.
Wheeler, 32, is the latest Jets player to sign long-term with the team, with the likes of Mark Scheifele, Nikolaj Ehlers, Bryan Little and goalie Connor Hellebuyck all locked up through at least the 2023-24 season. Winnipeg will also have to give new deals to rising RFAs Patrik Laine and Kyle Connor, whose rookie contracts run out following the 2018-19 season, though the team has the look of a Stanley Cup contender for years to come.
The 6-foot-5 winger has also made a big impression on the rest of his young teammates, with Scheifele going so far as to put his captain in his top-five most impressive players in the NHL.
"He's probably one of the most underrated players," Scheifele said of his linemate. "His passing is next-level. By far, he's a pretty special player to play with."
The former first-round pick was drafted at No. 5 in 2004 by the Arizona Coyotes franchise, but never signed with the team, opting to become a free agent and joining the Boston Bruins in 2008 instead. He spent two and a half seasons in Boston before being traded along with defenseman Mark Stuart to the Atlanta Thrashers for Rich Peverley and Boris Valabik, finishing the 2010-11 season in Atlanta before the team moved to Winnipeg. Through 10 NHL seasons Wheeler has posted 222 goals and 605 points in 778 NHL games, garnering the third-highest point total among players in his draft class, behind only Capitals forward Alex Ovechkin and Penguins center Evgeni Malkin.
Jets Make Connor Hellebuyck the Sixth-Highest Paid Goalie With New Six-Year Contract
Despite his longevity in the league, Winnipeg brass didn't have much hesitation in signing its captain to a contract that will take him through his age 38 season.
"He's a driver of our team and he's grown into that," Jets GM Kevin Cheveldayoff said. "Blake is an interesting individual in a sense that he wasn't one of those guys who started playing at 18 or 19 in the League. I think the mileage on the odometer is a little different than the age on the clock."