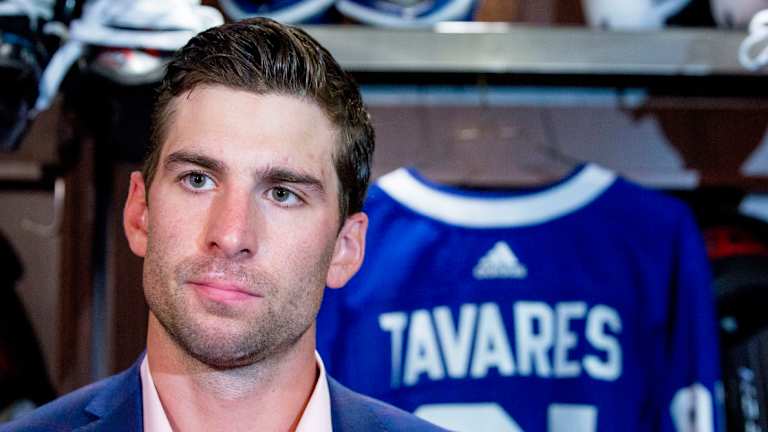 Expansion, Fashion and Celebration: News and Notes From the NHL's Player Media Tour
Domestic and international expansions, ventures into the fashion world and John Tavares's reflection on returning home: tidbits from the NHL's player media tour.
CHICAGO — The National Hockey League commenced its annual player media tour on Thursday morning, an exhaustive—and exhausting—slate of interviews that prefaces each preseason. Held in a downtown Marriott hotel along the Magnificent Mile, this year's installment overlapped with a commodities convention for the Institute of Scrap Recycling Industries, leaving the likes of Auston Matthews to wade through throngs of overzealous salespeople and glad-handing aluminum experts. Loop a lanyard around his neck, shove a tote bag into his hands, and the Maple Leafs' superstar center would've blended in just fine.
Back in Toronto, of course, that prospect would be damn near impossible. Led by Matthews and splashy free agent signee John Tavares, the Leafs will enter the 2018-19 season as trendy favorites to dethrone Washington, which returns the bulk of its Stanley Cup-champion roster after emerging from its summer-long, beer-soaked bender. Combined with the fresh leadership of 32-year-old general manager Kyle Dubas—not to mention the continued development of youngsters like Mitch Marner and William Nylander—title hopes are sky-high in the True North.
Then again, excitement flows like the Chicago River in all NHL cities these days. Training camps officially open next week, which means each player is in the best shape of his life, each coach likes what he sees on paper, and every team is undefeated … even Detroit and Vancouver. And so here we are, partitioned behind a curtain in a chilly fifth-floor conference room, cattle-herding skaters through the car wash, counting down until the puck drops on the league's 101st season of play and offering these tidbits as appetizers for the upcoming main course.
HEADING HOME
One month after stunning the hockey universe by choosing to return home, Tavares absconded overseas to Italy. The reason was perfectly justified: a honeymoon with new wife Aryne, whom Tavares married near Niagara Falls in early August. But the timing made for an entirely hectic offseason, crammed with some rather significant life decisions.
Not that Tavares is complaining either way. At seven years and $77 million, he accepted a significant discount on his free-agent market value in exchange for the priceless experience of skating for the Maple Leafs, whose logo bedecked every surface of his bedroom as a child. Reflecting on that decision Thursday, less than five weeks before his regular-season debut at Scotiabank Arena, it was clear that the luster hadn't yet waned.
In Joining an Up-and-Coming Maple Leafs Squad, John Tavares Gets to Live Out His Dream
"Throughout the process and [Toronto's] presentation in that meeting, it really connected me with being a child growing up there," said Tavares, who left the Islanders after nine seasons. "I really lost a lot of that, because I became so inundated in New York. Very proud of being the captain there. It meant a lot to me to be drafted there and grow as much as I did and help that team and organization as much as I could, and being so embraced by the community and fan base that it really became a big part of me in my growth.
"As you grow up, 5, 6, 7 years old, it was all, 'I want to play for the Maple Leafs.' Then you start to get older and you realize I've got a chance to play in the NHL, and it's just special to be a part of any franchise. I was lucky enough to go to a team like the Islanders that had a great history, one of the best dynasties in all of sports. I felt so fortunate to be a part of that and try to get back to that success they once had.
"I signed my second contract, a six-year extension. I was really thrilled and happy about that. You go through all that, get inundated in one place, so when I got to this process, it was very eye-opening. It got a lot of emotions and thoughts and feelings coming, which is why it was such a difficult decision. They really reconnected what it means to be a Maple Leaf and why it's special to be a Maple Leaf and what that would mean and why the fit's perfect. That really got me thinking and started to stir up some of those feelings again."
SHOVELS IN SEATTLE
On Oct. 2, representatives from the Seattle expansion bid—including mayor Jenny Durkan—will make their formal presentation to the NHL executive committee in New York City, another significant milestone on the path toward 32 teams.
According to deputy commissioner Bill Daly, however, the league's board of governors does not plan on voting to approve Seattle when it convenes later that day.
"We'll probably report to the board on the meeting on what happened and what transpired, what the executive committee's reaction was, but there will not be any board action either requested or taken at the October meeting," Daly told SI.com. "Look, there are still things that we need to do from an application standpoint. Really, it's a matter of when all those outstanding issues have been resolved and taken care of, and what the expansion application looks like, whether the board is favorably inclined to expand to Seattle.
"In a vacuum, I think everyone assumes they would be. But there's distance between here and there in terms of taking a vote."
That gap is quickly shuttering. The Seattle Hockey Partners ownership group recently bulked up by announcing several new local investors, including Sounders majority owner Adrian Hanauer. The city council is currently considering agreements connected to a $700 million proposed renovation of KeyArena and shovels are expected to crack dirt begin before long. Whether the NHL team would start playing there for the 2020-21 or 2021-22 season remains unknown—and partially hinges on the looming lockout—but all signs point toward an inevitable conclusion.
"I don't want to get ahead of the board," Daly said. "I think we've always been intrigued with the Seattle market, and I'd say there's nothing we've seen in our due diligence since we've received the application, as we continue to look at the market, that would indicate any concerns with having a successful NHL franchise in Seattle."
GOING GLOBAL
Next week, the Flames and Bruins will depart for an exhibition tour through China, stopping for split-squad games in Shenzhen and Beijing. As the NHL continues its international marketing push, a permanent league office could crop up overseas.
"I think we're three years into a Chinese business strategy and certainly I think having people on the ground who work for the NHL there, sooner rather than later, is likely," Daly said. "But I still want to take it one step at a time. Let's see how we do in these two games, let's see what the experience is like, what the response and reaction is, and then the logical assessment points are after we do something significant, like the two games that are coming up this month."
And is the word "Olympics" part of that Chinese business strategy?
"No," Daly replied. "I think the Olympic decision will be something that is a standalone decision. I don't think it will necessarily be tied to the Chinese business strategy. I think we continue to believe that we can grow a hockey culture in China and be successful on a business basis in China without necessarily having to go to the Olympics in Beijing in 2022. Doesn't mean that going to the Olympics in 2022, if we were to do so, might not be a helpful driver to the business, but I don't think one is dependent on the other."
SCHEIFELE'S RANKINGS
Few players consume hockey on an all-encompassing basis like Mark Scheifele, the 25-year-old Winnipeg Jets center whose daily diet contains zero gluten but tons of games. We asked for his league-wide watchability rankings, in no particular order:  
1. Tampa Bay — "They're fun. They score lots. They've got some fun players."
2. Edmonton — "Just because of McDavid."
3. Pittsburgh — Obvious, unstated reasons.
Jets Continue to Lock Up Core by Signing Blake Wheeler to Five-Year Extension
LIKE FATHER, LIKE SON
At the end of a disappointing season that saw the St. Louis Blues suffer their first playoff absence since 2010-11, leading goal-scorer Vladimir Tarasenko (33 goals, 33 assists) underwent reconstructive labrum surgery on his left shoulder. He spent the entire summer attending thrice-weekly rehab sessions and could return for training camp next week. "The guys who work [with] me did an unbelievable job, so it makes me not worry," Tarasenko said. "It wasn't that hard."
If Tarasenko ever needed any extra advice, though, he could always seek out his father Andrei, a former Winter Olympian who underwent three shoulder surgeries during a lengthy career in Russia. "Now I get one too," Tarasenko said. "I hope I will not catch up with him."
A right winger like his son, Andrei was named the Russian Super League MVP in '97-98 after notching 60 points (40 assists) in 46 games. "He was good," Tarasenko said. "Smart. Scored a lot of goals. But goalies were different that time. They don't go down. A lot of low-blocker, five-hole goals."
STYLE WATCH
Before he starred for the OHL's Brampton Battalion and punched his ticket as a first-round pick, Senators center Matt Duchene briefly entertained the idea of attending college to study graphic design. "I've been into that my whole life," Duchene said. "I don't know why. It's kind of a weird thing."
This passion manifested in a pet project over the summer when Duchene launched a personal clothing line called "hali." named after his hometown of Haliburton, Ont. The 27-year-old designs everything himself, whether drawing on an iPhone app or scribbling sketches with pen and paper. Most proceeds from hali. sales are directed toward a charity that helps feed underprivileged children; the collection of unisex hats, sweatshirts and other apparel are stocked at a local hockey supply store.
"I'm very detail-oriented, so it's easy for me to articulate that stuff," Duchene says.
Despite Waiting on a Contract Extension, Matt Duchene Ready for Senators to Surprise
He isn't the only skater venturing into hometown sartorialism, either. Fresh off his Stanley Cup run, Capitals winger T.J. Oshie recently started selling gear emblazoned with a logo representing Warroad—the map-dot hotbed that birthed Olympic gold medalist Gigi Marvin and Islanders winger Brock Nelson, among others—to raise money for youth hockey programs.
HARNESSING ENERGY
Devoted followers of Rangers winger Pavel Buchnevich's Instagram story feed—Anyone? Anyone? Bueller?—would've witnessed an odd spectacle late last month. Staged in the weight room of Prentiss Hockey Performance, a popular training facility located in Stamford, Conn., the brief clip shows teammates Chris Kreider and Brendan Smith strapped into the same harness, engaged in an ass-to-ass version of tug-of-war.
At the end of his interview window, Kreider rewatched the video, courtesy of an especially attentive fan's YouTube channel.
"Oh my god, Brendan was so mad," Kreider said. "We told Buchy not to post this. He posts it for two seconds and someone jumps on it. My thoughts? We were just messing around after a lift. Once I figured out it was posted, Brendan and I were like, our trainer's going to kill us.
So it wasn't a real drill?
"Definitely one off the reservation. Not smart. Could've hurt ourselves. We did it a couple times and one of us almost fell on the other person's heel. Not the smartest, but it was funny. At least he posted the one of me winning."
QUOTE OF THE DAY
Quote of the day from Capitals center Evgeny Kuznetsov, recounting his team's Stanley Cup celebration:
"We go hard … A couple days, three days, four days, we still everyone together. I feel little bad for our wives. They was home, waiting for us, but we still celebrating together, you know? My parents, everyone. Every morning, cup of coffee, hey I've got to go with the team. Baseball game, wherever. Next day and next day. Finally, after like 10 days, okay, I'm out of here."