Danica Patrick on the edge of biggest moment in her NASCAR career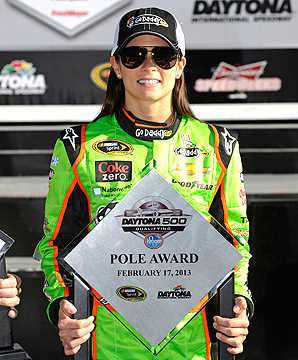 DAYTONA BEACH, Fla. (AP) -- For so long, Danica Patrick was just a pretty girl in a fast car surrounded by a crack marketing staff who parlayed a few golden moments on the track into worldwide fame.
Her sexy Super Bowl ads and the revealing magazine shoots quickly outnumbered her actual career accomplishments. They still do, and she routinely takes Twitter broadsides from a fan base that has resented her since she first dabbled in NASCAR three years ago. Her fiercely competitive nature and desire to keep her personal life private created the perception she is cold, standoffish,
Patrick has never flinched, and she's not flinching now on the doorstep of the biggest moment of her NASCAR career. She learned long ago to not care what people think about her, to tune out the critics and plug away at her race craft and at building the Danica empire.
All of that should help her in the pressure cooker of Daytona this week. After all, she's used to the spotlight more than almost any driver in history.
She already has a major accomplishment to tuck in her belt: She is the first woman in history to win the pole at NASCAR's top level. That it came at the Daytona 500, "The Great American Race," is somehow fitting because it's Patrick. The face of auto racing to many casual fans is now going to be the face of NASCAR every day this week leading into Sunday's season-opener.
It comes during a rebirth for the 30-year-old Patrick.
Something shifted last season, when she realized a happy ending wasn't going to come in her seemingly picture-perfect life. All the effort and energy dedicated to maintaining Danicamania wasn't making her happy.
So she made significant life changes, splitting from her 47-year-old husband after seven years of marriage. In January came confirmation of what everyone in NASCAR already assumed - she was dating fellow Sprint Cup rookie Ricky Stenhouse Jr., a cowboy-hat wearing Mississippi native who takes her to Professional Bull Riding and gave her her own blinged-out cowgirl belt buckle.
Patrick came into the season with a new man, a new outlook on life and a determination to be happy on and off the track. Where that takes her is anyone's guess because Patrick, so certain all those years she was a race car driver and had no interest in having children, is suddenly murky on motherhood.
"I don't know. I always used to say no. Now, I don't know. I'm in a whole new situation now," she told The Associated Press. "I do know I wouldn't compromise my career. I would not stop racing for that. If I did want to stop racing for that, then I would lose my passion for racing and it would be that point in time when I would want to stop racing."
Seemingly icy all those years, Patrick is suddenly an open book. She's done a total 180 and is putting herself out there much like a head-over-heels-in-love schoolgirl.
"People tell me I've changed. Maybe. I'm happy," she said. "You get kind of giddy about it, almost. Ricky and I like talking about each other. But life is just simpler now. I feel like I don't have to think as much. There was always an element of me that felt like I had to do the right thing all the time. Now I feel like I want to be me. I want to be relaxed, less calculated. My return on investment was not right, and I am done overthinking things."
If it seems as though Patrick has an opportunity at a fresh start, she is adamant that is not how she views this period of change.
"I think everything you do lasts. It is who you are and where you've been and I wouldn't be here today if not for all the things I've done up until this point," she said. "But there are definitely some starting overs that are clear and obvious. I think I'm just doing what it takes to be happy and feeling at peace with what you do and who you are.
"I always tell everyone, kids or adults, to just be yourself and be honest and I felt like I wasn't doing that myself."
Patrick may sound like she's suddenly found herself, but there's still a ton she hasn't figured out. She doesn't know how long she wants to race, but says she could see herself in NASCAR another 10 years.
"I always thought I'd race for 10 years, but then I did seven in IndyCar and now I've done two in NASCAR," she said. "So I am closing in on that 10 years of professional racing thing, but I am starting over and I have to start that 10-year clock over. I really don't know. I don't know if there's any way to pinpoint when you are going to lose passion for it or not be competitive."
That is certainly not now, not when Patrick is entering her first full season racing in the elite Cup Series. She drives for three-time champion Tony Stewart with sponsorship from longtime partner GoDaddy, and Stewart last year hand-picked 10 of the toughest tracks in NASCAR for Patrick to run in preparation for the move to the top series.
To say she struggled would be an understatement.
Patrick's average start was 36th, her average finish 28th and she crashed out of two of her 10 races. Fans howled she was undeserving of her ride and didn't warrant any media attention, then they voted her the Most Popular Driver in the second-tier Nationwide Series, where she finished 10th in points with four top-10 finishes.
That's the irony of Patrick, who was polarizing to fans in her seven seasons of IndyCar racing. She was the first woman to lead laps in the Indianapolis 500, and her third-place finish in that race in 2009 was the highest for a woman. She's also the only woman to win an IndyCar race, which she did in Japan in 2008.
Those three highlights were about it for Patrick, who never finished higher than fifth in the standings and had just seven podium finishes in 115 career starts. But she was IndyCar's biggest star and the spotlight rarely reached any other drivers, which wasn't lost on her fellow competitors.
Patrick makes no apologies for the attention she receives, and is taking a no-regrets attitude about much of her life. She's left behind IndyCar, maybe for good - she's sitting out the Indianapolis 500 for a second straight year - and she walked away from an unhappy marriage. She doesn't always like the things the Danica marketing machine wants her to do, but she's a businesswoman who learned a long time ago from Bobby Rahal to prepare for a life after racing.
If there's anything she would do over, Patrick isn't saying.
"I say that I learned an incredible amount in my 20s about everything, and about myself came at the end," she said. "I learned a lot about people, relationships, business, employees. I enjoyed it all, and I learned a lot.
"But I think it took me all the way until the last year how happy it makes me to be able to be myself, and how much I like myself. And you know, you take it or leave it. That's it. This is me, people can take it or leave it."