Germany in 2012: Near misses in Europe, domestic brilliance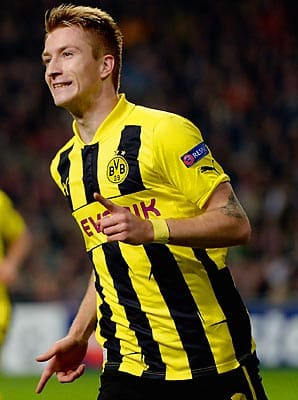 It was the year of broken dreams. First, Bayern Munich wrote nine out 10 chapters of their own fairy tale, before running into a horror twist at the very end: losing the Champions League final, in its own stadium, against an ultra-defensive Chelsea, on penalties. A month later, it was Germany's turn to get it all wrong against Italy in the Euro semifinals.
In purely domestic terms, however, German football shone. A new attendance record coincided with Borussia Dortmund's irresistible run to a historic treble. The Black and Yellows couldn't quite keep up their performance levels in the second half of the year, the new season, but that relative weakness has been more than compensated by their sensational performances in the Champions League, where they topped a group with Ajax, Manchester City and Real Madrid to emerge as a genuine international power. In fact, all seven club sides managed to advance to the knockout stages of UEFA's competitions. It's a new record and underlines the Bundesliga's renaissance.
Player of the Year
Marco Reus
The 23-year-old attacking midfielder was voted Player of the Year at the end of the 2011-12 season for his excellent performances at Gladbach. After his ?17.5 million move to Dortmund in the summer, he's made the next step, scoring 10 goals in all competitions, including three absolutely vital ones in the Champions League. Reus, who can operate on both flanks as well as "in the hole" behind the striker, is the perfect player for Dortmund's high-pressing, all-action, transition game. "We have to go back many years to remember such a talent in Germany," former national team goalkeeper Oliver Kahn said in October. "Reus is very, very fast, he's always moving into space and he's a very intelligent player."
To top it all off, the former Dortmund youth player who at first slipped through the net has the kind of devil-may-care attitude that's so often prevalent among the world's best players. "I don't put too much pressure on myself, I just enjoy playing football," he said this week. To see him is to believe him.
Flop of the Year
Felix Magath
"My philosophy is timeless," the 59-year-old told Bild this week, "I stand for honest work, performance and success." In a way, that is true. On his return as manager to Wolfsburg in March 2011, Magath staved off relegation. The following season, however, was merely transitional -- Wolves finished mid-table -- and in the first half of 2012-13, things fell apart completely. Magath was doing his usual Magath thing. He bought and sold players on an industrial scale. He constantly benched, promoted and demoted his charges in an effort to keep up the pressure. He played his best players out of position. In the end, he had lost all respect and trust in the dressing room. Magath has promised to be back in the Bundesliga in 2013, but that's unlikely. The pulled curtain has exposed his rather simplistic tricks, and his aura of diabolical genius has been lost in the process.
Biggest Surprise
SC Freiburg
The club from the Southwest of Germany finished 2011 at the bottom of the Bundesliga table, with 13 points from 17 games. A year later, it is heading into the winter break in fifth, ahead of juggernauts Schalke 04, Stuttgart, Wolfsburg, Bremen and Hamburger SV. It's a stupendous achievement. SC is working with one of the smallest budgets of the year and had to sell Papiss Demba Cissé, its leading striker, in January (to Newcastle). Manager Christian Streich, 47, is the architect of the success. He's the Breisgau version of Marcelo Bielsa: passionate to the point of being slightly loco, a firm believer in pressing and a stickler for values likes mutual respect and collective responsibility. His response to a question from Kicker magazine about establishing a new points record (53) in a calendar year with Freiburg was instructive. "This is testament to the amount of people who have worked with an insane intensity," he said. "It's amazing to see the players follow on this path, with their attitude, their dedication, there ability to take criticism. We have players who are very ambitious, who are hungry but who don't forget about their teammates at the same time."
Game of the Year
DFB Cup Final
The two games against its closest rivals in the 2011-12 league season had both finished 1-0 to Dortmund, but it was the 5-2 destruction of Bayern Munich in Berlin in May that really shook the foundations of German football. Jürgen Klopp's men took advantage of some slack defending from the Bavarians to annihilate them with impossibly slick attack moves. In the Olympiastadion, Alex Ferguson could be seen licking his lips; Shinji Kagawa was soon on his way to Old Trafford. Bayern has made some amends with its strong showing in the league this season -- it leads the table, 12 points clear off the champions -- but the brutality of this defeat will only be forgotten if Jupp Heynckes' team manages to inflict similar damage in the next encounter. And that's a very big "IF" -- a 1-1 draw is all Bayern could muster at home at the beginning of December.
Biggest Disappointment
Germany's Euro Exit
Bayern's loss to Chelsea had something freakish, otherworldly about it. Germany's semifinal collapse at the Euros against Italy, on the other hand, was even more traumatic because it felt largely self-inflicted. National manager Joachim Löw sacrificed one of the the team's key strengths, its attacking prowess on the flanks, in order to solidify the middle. Toni Kroos and Mesut Özil ended up vaguely in the same space, however, and too many German attacks were funneled right into the center, where Italy was at its strongest. Lukas Podolski, out wide left, was mostly a spectator. Things improved with the introduction of Miroslav Klose and Marco Reus at the break, but by then Italy was already up 2-0 and halfway home.
Germany didn't just lose a game in Warsaw. Löw's air of invincibility vanished that night, and fundamental doubts about the team's attitude and ability to deal with big-game pressures are destined to cling to the side like a bad smell all the way to the 2014 World Cup.