Altidore shrugs off racist chants, says he'll pray for abusive fans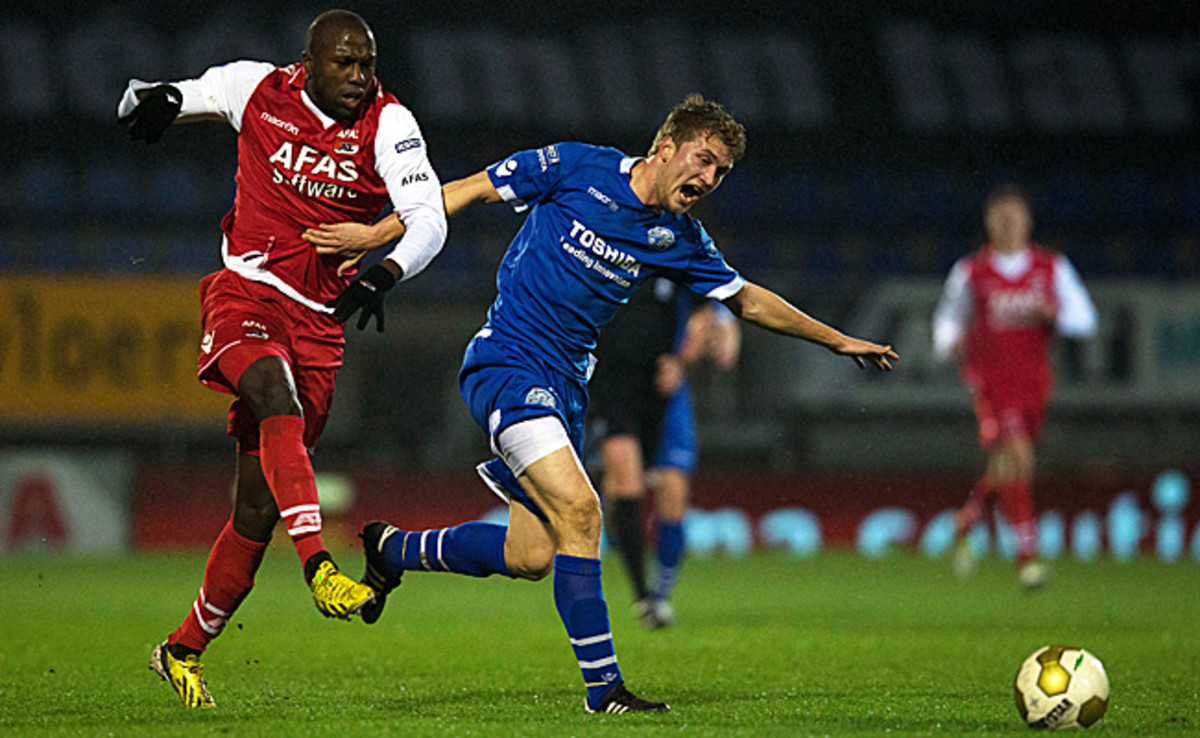 Like most kids in America, Jozy Altidore grew up hearing and reading about Jackie Robinson, the trail-blazing African-American who broke Major League Baseball's color barrier in 1947. "Everybody knows his story and what he had to go through," says Altidore, who's aware that Robinson heard all kinds of racist epithets from baseball fans yet never lashed out in response. Robinson just kept playing and succeeding, reaching six World Series and winning the MVP and Rookie of the Year awards.
The overt racism that Robinson experienced in baseball stadiums doesn't happen in U.S. pro sports arenas these days. But we still see it with alarming semi-regularity in the world's soccer stadiums, as Altidore found out Tuesday in the Netherlands. During a Dutch Cup quarterfinal between Altidore's AZ Alkmaar and FC Den Bosch, a group of Den Bosch fans directed racist monkey chants at the strapping U.S. forward.
"I started hearing it at the beginning [of the game], actually, and I didn't really know what they were saying," Altidore told SI.com on Wednesday night. "I thought it was just some type of chant for their team. But I started hearing it again every time I got around the ball or I was making a run and it looked like the ball was going to come. Then I understood clearly it was for me."
So did the referee, Reinold Wiedemeijer, who walked over to Altidore.
"Look, this isn't right, we should stop. What do you think about that?" Altidore says Wiedemeijer told him.
"I don't think we should do that," Altidore replied. "We should just continue."
Later, as the chants continued, the referee returned to Altidore. "No, Jozy, we need to take a stand on this. It isn't right," Altidore remembers him saying.
At that point, Altidore said he paused to think. "You know what, it's only going to make them stronger if we back down," he responded. "I just want to get on with it and play and win the game."
In the end, AZ won the game 5-0, but not before Wiedemeijer did suspend the match briefly as Den Bosch fans threw bottles and snowballs at the officials. (Den Bosch club administrators apologized to Altidore on Wednesday and pledged to identify and punish the participating fans.) Altidore would go on to convert a penalty for his 20th goal in all competitions this season, a career high, and while he didn't mock the abusive fans afterward he did feel like it was one of the best responses he could have given to them.
"Of course, of course," Altidore says. "They weren't happy to see us win by that margin. I don't think anybody expected that."
Yet Altidore earned even more global respect for the way he responded after the game, striking a stance well beyond his 23 years and saying he'd be praying for the offending fans.
"That's the first thing I was thinking about," says Altidore, who grew up in Boca Raton, Fla., as the son of parents, Gisele and Joseph, who were born in Haiti. "The way I was raised, we never looked at black and white. My family has always stressed to me, yes, you will come against things that are different for a young black kid growing up. Let's be honest about that, we're still not over that. But at the same time, they always told me you can't judge anybody by their color. You have to respect everybody for who they are and what they stand for."
"For me, I just felt maybe those [racist fans], that was left out when they were brought up, or maybe it's something their families didn't focus on. I can't speak on their behalf, but I just have to hope they become better as people and improve themselves. At the end of the day, it's not going to help if you have grown men talking like that. They have children, those guys in the stands, so it would help if they fixed that problem."
Altidore isn't the first U.S. soccer player to be the subject of racial abuse in Europe. So have Maurice Edu, Oguchi Onyewu and DaMarcus Beasley. Just recently, AC Milan's team walked off the field during a friendly against a lower-division team whose fans were directing racist chants at Kevin-Prince Boateng.
The response by Milan and Boateng was dignified and reasonable, but so was Altidore's. "I think it's a bit different circumstances," Altidore says. "I'm not saying what he did was right or wrong, I'm just saying for him it was in a friendly. We were in a cup quarterfinal. I'm not saying if it was a friendly I would have walked off. I'm just saying it was a big game for us, and we were tuned in. I didn't want to empower them. Empowering them would have been walking off and saying, 'OK, you got the best of me, I'm done.' I wanted to show them they couldn't hurt me, in a sense. I wanted to win the game for my team."
Global soccer has a racism problem, and Altidore's experience won't be the last. Yes, he was surprised that it happened in Holland. ("I've never had a bad encounter with anybody here before.") And yes, he hopes not to endure anything like it again. But he also comes away with a positive feeling from the global response that came pouring in on Wednesday morning as fans around the world saw a young American in Europe respond to the vilest of abuse with an inspiring dignity.
"Today when I went to training, I had hundreds of emails on my chair from people all over the world," Altidore says. "I was really taken by that. People from Indonesia and different parts of the world I never would have guessed this news would have reached. For those people to reach out and support me was just overwhelming, and I appreciate it."