Soccer, Gus Johnson-style? Exciting but room for improvement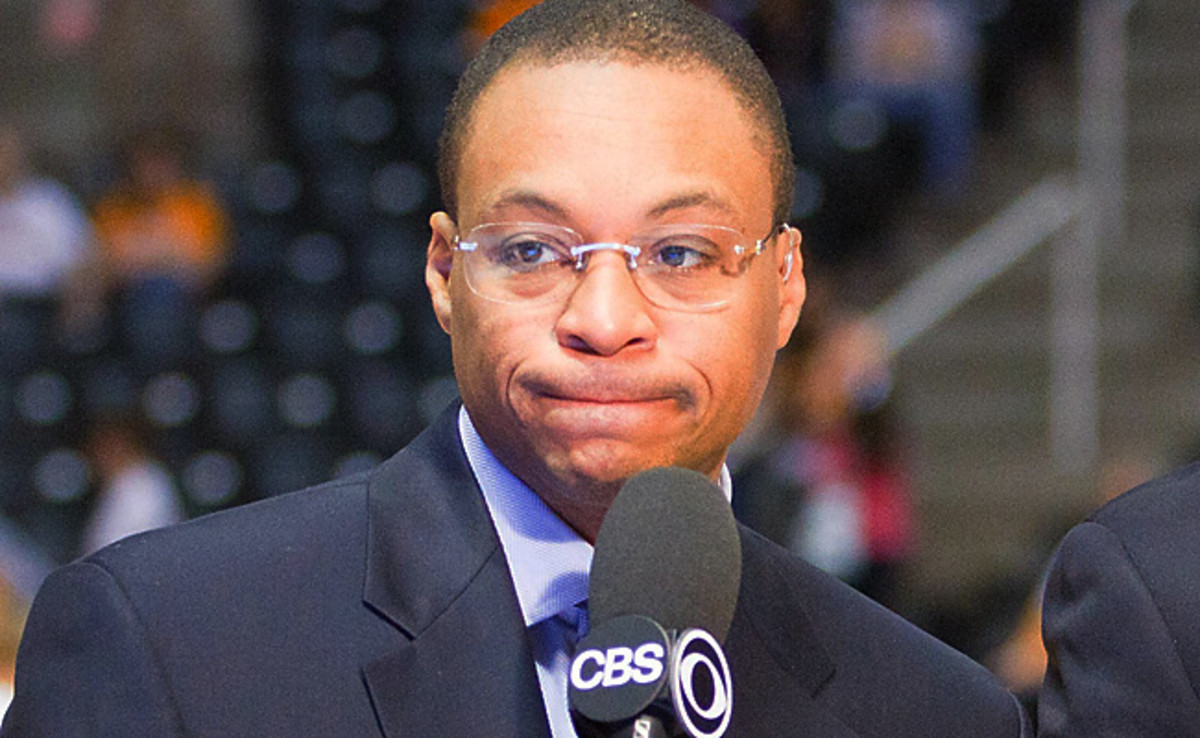 On the night before his world soccer broadcasting debut Wednesday at Madrid's famed Santiago Bernabeu stadium, Gus Johnson's dinner was interrupted by a phone call from his boss.
"I called him to loosen him up and to make sure he knew this was something fun, something we consider the beginning of a long journey," said Fox Sports president Eric Shanks. "I told him, 'Hey, no matter what happens tomorrow, this is a long road.'"
Of course, Johnson wasn't buying any of it.
"I get it, Shanks," Johnson told his boss. "I know what you are doing. You are trying to take the pressure off of me. Look, I'm in a good place. I'm confident. I feel good about this broadcast."
While the on-field subplots of the Champions League Round of 16 match between Real Madrid and Manchester United centered on Real Madrid's Cristiano Ronaldo facing his former club for the first time since leaving in 2009, and Jose Mourinho matching up against Sir Alex Ferguson in a battle of iconic skippers, how Johnson fared on the Fox Soccer Channel broadcast was of great interest to an American audience. As first reported by SI.com, Fox Sports plans to groom Johnson as its 2018 World Cup voice, a plan that hatched in October 2011, shortly after FIFA awarded the U.S. broadcast rights to the company for the 2018 and 2022 World Cups.
Fox Sports executives repeatedly said last week that Johnson calling international soccer was not a stunt and on that scale, his performance goes down as a success. His grade for the broadcast would be around a B- or C but he proved that he was no sideshow. Where must he improve? As he heads forward, Johnson must start making observations on what he sees on the pitch, something he rarely did during Real Madrid-Manchester United. He also was rarely critical of play, and both he and analyst Warren Barton should have given us more on Ronaldo, the star among the stars.
Like a doctoral student desperate to blurt out how much he had studied, Johnson provided a facts and figures dump over the first 25 minutes of action. The game at times moved too fast for him, and he was late on the run of play a number of times in the first half. His call of the first goal -- Danny Welbeck scoring for Manchester United -- started with the odd phrasing of a calling a soccer ball by another object. "Van Persie breaking to the football. And it's headed up and in. Danny Welbeck! Gives Manchester United a one-nil lead here in Madrid. And that gets Jose Mourinho off the bench." His call of Ronaldo's equalizer will not end up being one of his marquee calls, either.
There will be other things Johnson wishes he had back when he sees the tape. He misidentified Welshman Ryan Giggs as "the most decorated English player" and was incorrect on Real Madrid's Xabi Alonso clearing a Robin Van Persie ball off the end line in the second half. (Johnson initially had Sergio Ramos with the clear but corrected himself quickly. Barton should have bailed his partner out on Giggs.)
But where Johnson was very good was going from 0 to 60 when something happened in front of the net. For example, in the 79th minute, you heard his voice soar as the ball went from Mesut Ozil to Luka Modric and finally on a deflection to Sami Khedira, the German midfielder's who forced Manchester United keeper David De Gea into a sharp save. Same with the scramble at the Manchester United net in the 90th minute, when Ronaldo had a chance for the winner. Johnson will improve with more reps and as he becomes more familiar with broadcasting from international locales. (Here's how the New York Times saw Johnson's performance.)
Shanks said he texted Johnson afterward ("Strong start. I really appreciated your passion and commitment to this and today it showed," Shanks said, reading the text) and said he would send both Johnson and Barton his observations in an email on Thursday.
"I was pleased with Gus doing a broadcast that was solid," Shanks said. "On March 5 for the return match, I think everyone will see a big improvement."
That had not been announced until this piece so add the second leg of the Real Madrid-Manchester United at Old Trafford to Johnson's broadcasting schedule. He will next call a second Champions League match between Arsenal and Bayern Munich in London on Feb. 19 and a Premier League game between Manchester City and Chelsea at Etihad Stadium on Feb. 24.
In an interview with SI.com last week, Johnson used the word "novice" to describe where his soccer education was. "There are so many different leagues and players from all over the world," he said. "The key for me is to try to take it -- and I don't mean to sound cliché -- but literally one match at a time. Learn everything I can about that one match and the two sides that are playing and go with it from there and allow my knowledge to grow."