Phil Jones brings to mind greatest man-marking efforts in history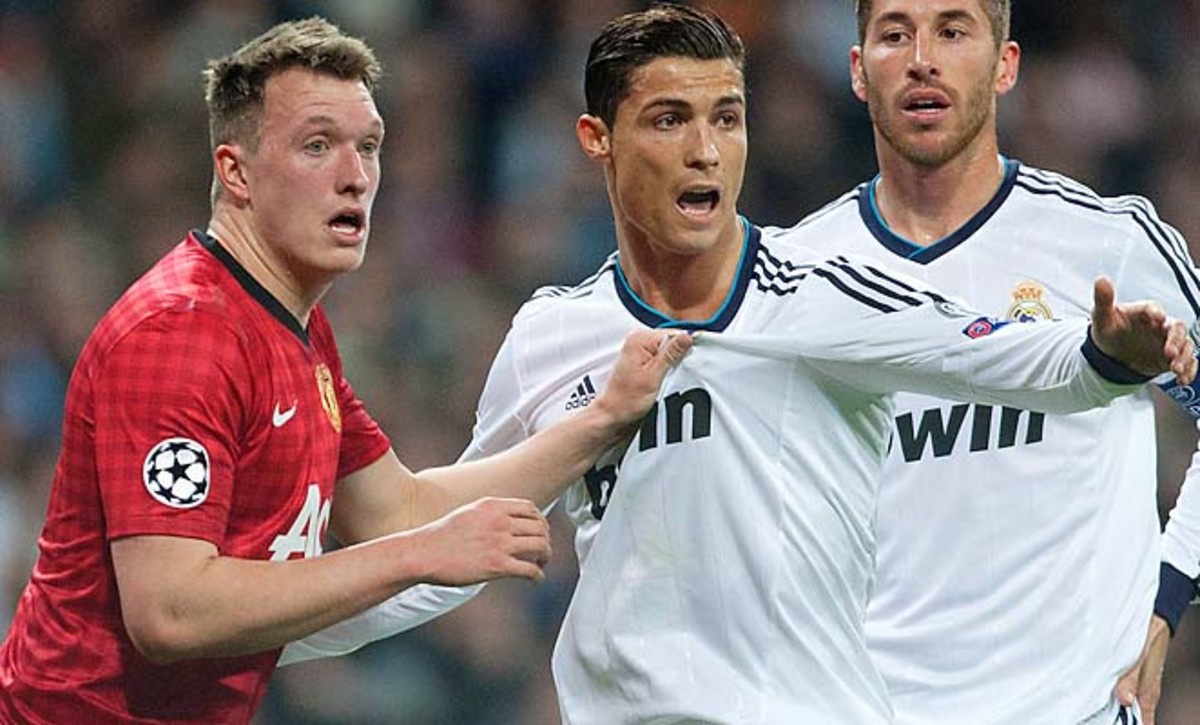 Meetings between Real Madrid and Manchester United never pass quietly by, and after days of feverish build up, the English press has spent the couple of days since Wednesday's 1-1 draw enjoying the performances of United's young players. David de Gea made a string of excellent saves, notably the first-half diving finger-tipper that kept out Fábio Coentrão's low, curling shot, and the lunging kick that denied the same player at the post in the second half. Danny Welbeck was described as "marvelous" by Sir Alex Ferguson after heading in that valuable away goal. And then there's Phil Jones.
Admittedly, Jones is a player that many people in England (it's a fair cop) have barely been able to wait to laud; the way he puts himself about the pitch elicits a guiltily pleasurable sense of nostalgia. Others consider him rampantly overrated, and an injury-hit season has probably entrenched both camps. Yet this week there is no denying what a good job he has done tending to the two players most dangerous to United's ambitions: Everton's Marouane Fellaini and Real's Cristiano Ronaldo.
"Fellaini picked up a shadow in Phil Jones," reported the Independent, and Jones had previously done the same to Gareth Bale. Now it was Ronaldo's turn. Jones was not assigned only to him, also following Ángel di María hither and thither, but there was a moment about a minute into stoppage time when Ronaldo was twice denied a winning goal by the simple fact that Jones would not leave him alone long enough to plot it, or even to hit with any hope.
It's not quite enough to refute Claudio Gentile's assertion that man-marking is "a lost art in today's game," but it was a reminder of its beguiling appeal. You'll find a selection of memorable man-to-man marking performances from the past listed in chronological order below:
Franz Beckenbauer on Bobby Charlton, England 4-2 West Germany, World Cup final, July, 30 1966
It has been talked about as the game's two best players canceling one another out, but the West Germans suffered more for Beckenbauer's man-marking than did England -- even if the papers did complain that it was "not one of Charlton's better days." Charlton's performance against Portugal in the semifinal inspired Beckenbauer's detail, but it was a decision that Helmut Schön would regret. "For the young half-back had little opportunity to exploit his attacking genius until it was too late," Hugh McIlvanney wrote in the Observer. Charlton marked Beckenbauer out of the quarterfinal in Mexico four years later but was subbed off, and West Germany recovered from 2-0 down to put England out.
Nobby Stiles on Amancio, Real Madrid 3-3 Manchester United, European Cup semifinal, May 15, 1968
Stiles is often remembered -- against his own preference -- for man-marking Eusebio for club and country, but his duel with Amancio in the 1968 semifinal was possibly more compelling. Stiles watched Amancio "like a cat," said the Guardian, "and pounced as often as he could." Missiles rained from the stands until, after half an hour, Amancio escaped Stiles' attentions and helped Real to a 3-1 lead. It looked unassailable. But a minute into the second half, Stiles crumpled Amancio with a filthy challenge and didn't hear a squeak from him thereafter. United leveled to win on aggregate, and a disgruntled Real fan clocked Stiles over the head with a beer bottle as he got onto the team bus.
Berti Vogts on Johann Cruyff, Netherlands 1-2 West Germany, World Cup final, July 7, 1974
Things did not start brilliantly for Vogts: after a minute of watching Cruyff carelessly trotting about enjoying himself, the right back ended the Netherlands' first proper run at goal by scything Cruyff down with a sliding tackle on the edge of the area. Before two minutes were up, the Germans were a goal down -- and about to suffer some shameless showboating by the Dutch. But Vogts stuck to Cruyff like glue, thoroughly impoverishing the Dutch captain's ability to dictate or even influence the play -- and finding the time to force the keeper into a fine save with a shot of his own.
Claudio Gentile on Diego Maradona, Italy 2-1 Argentina, World Cup second round, June 29, 1982
Gentile maintains that he was never violent and only ever acted in good faith, assertions that are severely tested by watching his performances at the 1982 World Cup. Italy stumbled through the first group stage; a few days before it met Argentina in the second, manager Enzo Bearzot tasked Gentile with keeping Maradona quiet, thus allowing Marco Tardelli to play. "If Maradona was facing you, you'd lost," he said, and duly clung to Maradona's back for 90 minutes. In among the dozens of fouls and mother-related insults, there was a glorious moment when Gentile pinched a pass off Maradona's toes just before he could turn it toward the six-yard area. Guido Buchwald read the notes before marking Maradona out of the 1990 final.
Wolfgang Rolff on Michel Platini, France 0-2 West Germany, World Cup semifinal, June 25, 1986
Now coaching the German side, Beckenbauer still aimed to nullify the best opposition players by sacrificing one of his own. In the final it would be Lothar Matthäus attempting to track Maradona; here, Rolff was in the five-man midfield purely to keep tabs on Platini, just as he had done for Hamburg against Juventus in the 1983 European Cup final. Beckenbauer freely admitted that West Germany was "very, very lucky" to win this match. Like Hamburg, the Germans scored early and kept the initiative; Platini, who had scored two delightful goals to help his team reach the semifinals in Mexico, was rarely able to get away from Rolff for long, and when he did his goal was disallowed for offside.
Jurgen Kohler on Marco van Basten, West Germany 2-1 Netherlands, World Cup second round, June 24, 1990
This went down as a terrible performance by Van Basten -- "Marco has been on holiday since February" Milan manager Arrigo Sacchi said -- but it certainly owed something to the attentive defending of Kohler. The German was a wonderful man-marker (even in training, Brian Laudrup said he was a "truly terrifying player"), and his intervention as a Ruud Gullit cross made its way toward Van Basten in the 68th minute of this match was arguably more important than the late penalty he conceded. Kohler tracked Van Basten at the European championship two years earlier but was unable to stop him scoring a late winner in the semifinal; he credited the experience for setting up his later success. "I realized I still had a lot to learn."
Martin Keown on Corentin Martins, Auxerre 0-1 Arsenal, European Cup Winners' Cup quarterfinal second leg, March 16,1995
The first leg had not augured well for the holders; in the Observer, Patrick Barclay wrote of a "blend of agonising and fair-minded appreciation that the technical gulf between the sides was most obvious in a midfield ruled by the outstanding Corentin Martins." Ahead of the return, Arsenal caretaker manager Stewart Houston said that he would be fielding Keown, who hadn't started for Arsenal since shadowing Southampton's Matt le Tissier in January, "to follow Martins everywhere." Martins -- his shoulders dropping lower and rounder as the match wore on -- was forced back as far as his own penalty area to seek the ball. At every turn, Keown was there to extinguish any sparks before they could ignite.
Park Ji-Sung on Andrea Pirlo, Manchester United 7-2 AC Milan (agg), Champions League second round, Feb. 16 and March 10, 2010
"He never gave Pirlo a kick," said Sir Alex Ferguson after two legs in which Park demonstrated exactly why the Manchester United manager always called him up for big European games. Gary Neville, grateful for a quiet evening with Ronaldinho, said: "You have to look at the work Ji-sung Park did, stopping the forwards getting the service." In fact Pirlo made only 21 passes at Old Trafford in the return leg, which United won 4-0, having been completely suffocated by Park. "He kept running off him, which was brilliant, too," Ferguson added. Park scored United's third with an hour played, finishing a move that he had started.