Roberto Mancini swipes at critics before City Cup game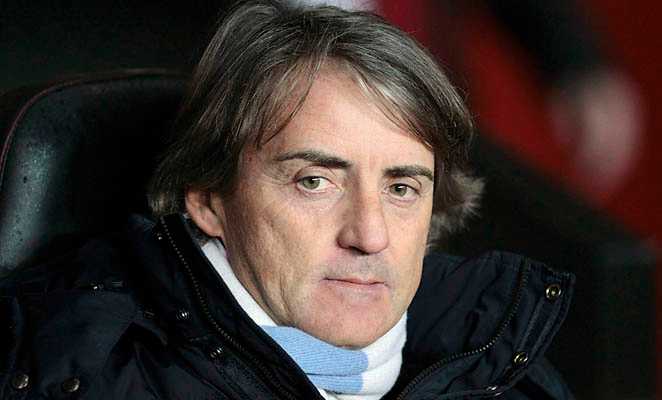 Roberto Mancini's pursuit of a trophy this season could be all but over by Sunday unless Manchester City can prevent Leeds from pulling off another upset in the fifth round of the FA Cup.
The manager, though, is mocking those critics who suggest his job could be on the line.
"All the people who talk about this don't understand football,'' the Italian said Friday. "Because if Manchester City should sack me, the other 20 teams in the Premier League should be without a manager.''
City, though, has been England's biggest spending team, with hundreds of millions of pounds (dollars) lavished on the squad during the three years Mancini has been in charge.
The major trophies to be won during Mancini's reign are the Premier League and FA Cup, although he did end a 35-year trophy drought.
This season, City has already been dumped out of the FA Cup and Champions League, while its Premier League title defense is in tatters with Manchester United surging 12 points ahead.
"We started our project three years ago,'' said Mancini, whose side lifted the pre-season Community Shield in August. "In three years we are always on the top - we fight for the title, we won three trophies. We have the chance to win more this year.''
Beating Leeds will be no easy task, however, with the second-tier club knocking out Tottenham last month. Premier League sides Southampton and Everton were also eliminated in the League Cup before going out in the quarterfinals to Chelsea.
And there's little sympathy for Mancini from Leeds manager Neil Warnock.
"When you're at a club like that and you've spent what they've spent you're always going to get pressure,'' Warnock said. "The pressure is that they're only second in the league, but that's what you get with the job. I think every manager would like those pressures to be able to go and buy anybody you want in the world.
"It made me laugh when Roberto said he was going to drop some player. What he meant was he's going to bring the first-teamers who weren't playing last week back in, like (Vincent) Kompany and (Carlos) Tevez. When you look at the squad it's fabulous.''
On paper so is Chelsea's - which isn't reflected always on the pitch.
Unlike City, though, Chelsea is still fighting for trophies on two fronts - just.
Chelsea only avoided elimination from the FA Cup three weeks ago at Brentford when Fernando Torres scored a late equalizer against the third-tier club.
It was a rare goal for the Spain striker. The 1-0 victory at Sparta Prague in the Europa League on Thursday was provided by Oscar, leaving Torres with the Brentford goal as his only one in 13 matches.
He'll be hoping the drought ends when Chelsea plays at home to Brentford on Sunday in the only fourth round match yet to be settled.
"We have to create more opportunities and the strikers will score more goals,'' Chelsea manager Rafa Benitez said. "(Torres') work rate was really good and thanks to him the rest of the team, especially the second line of offensive players, they could create. Everybody expects from a striker just to score goals, but he's doing also a great job for the team.''
But not good enough. Torres' last Premier League goal was on Dec. 23 - one of just seven this season despite 2,046 playing minutes in the league, according to U.S. information provider STATS - leaving the team third in the standings.
"(The lack of consistency) has been very difficult for us,'' defender Branislav Ivanovic said. "But we are a team that can build and we have to think about this.''
Manchester United, which is running away with the Premier League title, had a successful week in the Champions League, drawing 1-1 at Real Madrid in the first leg in the last 16.
In the FA Cup, United faces Premier League rival Reading on Monday, giving manager Alex Ferguson a chance to rest some players.
"It's not easy to rotate but it has to be done,'' Ferguson said. "The biggest responsibility lies with me to pick the right team. In the final part of this season we have a lot of important games.
"After Monday we have a league game against QPR, then Norwich before Madrid again. Then we'll use the full squad.''
In the other fifth round matches on Saturday, Arsenal hosts Blackburn, Everton is at Oldham, Luton faces Millwall and MK Dons takes on Barnsley. Also Sunday, Premier League struggler Wigan is at Huddersfield.