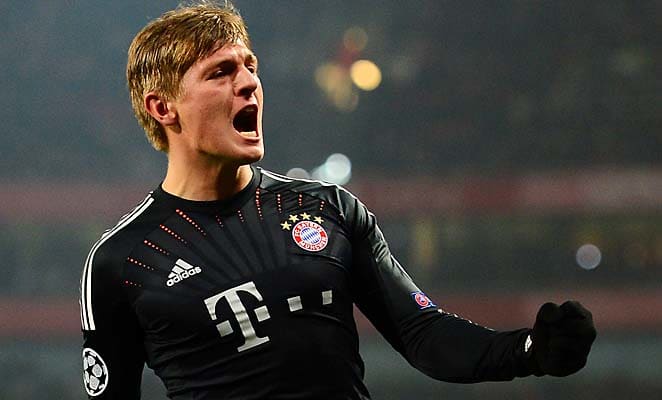 Bayern Munich proved its status as a true Champions League contender after a dominant first-half performance in a 3-1 win at Emirates Stadium, and despite a spirited Arsenal comeback in the second half, has left the Gunners with a mountain to climb. In Porto, Group A runner-up FC Porto took a narrow 1-0 lead into its return leg at debutant Malaga. Here are the talking points from another dramatic night of European action:
Wenger pressure mounts after Bayern win
Just when Arsenal fans thought it couldn't get much worse, it did. And though it rallied briefly in the second half, the way the home team started this tie seems certain to cost its place in the Champions League this season.
Bayern Munich was two goals up inside 20 minutes, and it could have been even worse for Arsenal had midfielder Mikel Arteta been shown a red card for a dangerous tackle, borne out of frustration, soon after conceding. Both goals could have been prevented: the first, a cross from the right that Laurent Koscielny and Aaron Ramsey failed to block for Toni Kroos, on the edge of the area, to smash into the ground and past Wojciech Szczesny in the seventh minute.
The second was even worse: a corner routine that Daniel van Buyten, unmarked from six yards out, headed at the near post; Szczesny parried straight to Thomas Muller, who volleyed in from two yards in the 21st. Van Buyten was meant to be Bayern's weak link, a fourth-choice centre-back whose lack of pace was the chief reason Theo Walcott was picked at center forward. Instead, he was a rock, diving in to block Per Mertesacker's effort in a rare sortie forward.
For Arsenal, this game was reminiscent to its 2-1 Premier League defeat at Chelsea last month. It was so poor in the first half that when Chelsea went two up, you could not help feeling it was the beginning of the end of the Wenger era. A second-half goal and late rally ended in a 2-1 loss and slight change in narrative, but that same lethargy was apparent here -- not that the German side gave it much opportunity.
Bayern was brilliant in that first half: if it wasn't already so dominant this season, this was its calling card as potential winner of this competition. It could have had a third just before the break, but Mario Mandzukic's header just missed the post. It was hard to imagine how Pep Guardiola could improve on this side too much.
The second half was similar to that Chelsea game: a goal out of nowhere, in this case a header by Lukas Podolski from a corner that should not have been given. That gave Arsenal belief, and when substitute Olivier Giroud hammered his first touch straight at Manuel Neuer, it seemed an unlikely comeback might be on the cards.
Instead, as Arsenal pressed, Bayern exploited the space. Philipp Lahm, probably the best player on the pitch, overlapped Arjen Robben's run and crossed for Mario Mandzukic to loop the ball home for Bayern's third.
How do we now look back on Arsene Wenger's pre-match press conference, when he turned on the press for "lies" over his "hunted" side? Described by one English newspaper as "Wenger Meltdown," was it the sign of a coach entering his end-game at his club, just as Rafa Benitez did at Liverpool with his "Fact" press conference (January 2009) or Kevin Keegan with his "I will love it if we beat them!" TV rant (April 1996)? Or was it a controlled display of frustration, switching the narrative from his under-performing players who had just lost at home to lower-league Blackburn Rovers in the FA Cup onto his own performance and his future?
Once again the focus will be on the Arsenal coach: his performance, and his future. Should he have picked Abou Diaby for Ramsey, with his aerial ability potentially preventing the second goal? What about Giroud in attack, whose heading ability might have capitalized on Bacary Sagna's teasing cross before halftime? What about the subs, coming on after 70 minutes: within 100 seconds, Tomas Rosicky, one sub, released Walcott, whose cross created that chance for Giroud, the other sub. Would earlier changes have made a difference?
CREDITOR: Americans eye European glory
"We didn't start great, it's been a theme this season but I don't know why," said Jack Wilshere, one of Arsenal's best performers. "I'm not sure why, maybe it was a bit of nerves, anxiety. We show what we can do when we do play and it's a bit frustrating. It's nothing to do with the manager, it's up to us to perform. The players will take responsibility. For me, you can't question the boss."
But people will question Wenger: it has reached the point at which the fanbase is split into those who want Wenger to see out his contract until 2014, and stay on after that (they are the AKBs, the "Arsene Knows" Brigade) and those who want him to quit at the end of season. The latter group, some of whom have even suggested starting a "Wenger Out" chant in the eighth minute of Saturday's game against Aston Villa (to denote the eight years since the club last won a trophy), need to be careful what they wish for. After all, who do they want to replace Wenger? Remi Garde? Dragan Stojkovic? David Moyes? Jose Mourinho? Tony Adams? Last season, Wenger told L'Equipe he wanted his successor, whoever it was, to continue the philosophy he has established at the club.
"Johan Cruyff showed that he was a real manager. He left the club and his football culture survived," he said. "I am not dreaming about being immortal, but at that level a coach becomes like a guide for the future. He gives something that will be used as a reference when the club is looking for its identity. When a manager stays a very long time at a club, he must leave this imprint. This is what I dream of doing. It would unforgivable to the privilege of longevity to not leave anything behind me."
There can be no clearer warning for Arsenal fans than the example of Liverpool since Benitez left the club. One wrong appointment in Roy Hodgson (and to think: it was between the Englishman and Manuel Pellegrini for the post) led to three different coaches in three years and the regular, and quite honestly, overly optimistic, refrain that Champions League is on the horizon.
Even if this is the last time we see Wenger's Arsenal in the Champions League, the coach deserves better than this. Having said that, I think Bayern coach Jupp Heynckes is available next season.
Porto favored after narrow win
Porto continued its impressive record of scoring in home games -- now 27 matches at Estádio do Dragão in which it has found the net -- but only just, after a spirited Malaga team was undone by a second-half goal from midfielder Joao Moutinho.
The strike, just before the hour mark, might have been marginally offside, but it was precise in his execution: a marvelous ball from Alex Sandro superbly finished by Moutinho, the game's outstanding player. It had been coming: Porto was the more dangerous in a cagey first half, but had almost broken the deadlock minutes earlier, as Marat Izmailov could not connect properly on a decent cross from Silvestre Varela.
What are the takeaways from this game? Maybe that Malaga, who was unbeaten in the group stage and topped its group, is fourth and has the best defense in La Liga, is not as good as we might have thought. It created little, as Porto coach Vitor Pereira's plan to press high up the pitch and snap into Isco whenever the visitors' danger man got the ball worked a treat.
There will also be some questions for Malaga boss Pellegrini, who chose to field two up front for the first time this season: in fact, Julio Baptista and Roque Santa Cruz had only ever played together for six minutes, and it showed. It was lucky for the visitors that Jackson Martinez, Porto's breakout star this season, was not quite on his game. Three times he came close to troubling Willy Caballero in the Malaga goal, but on each occasion, his first touch or control did not match his wonderful movement. When it does, it will spell danger.
As it is, Oguchi Onyewu, not in the Malaga squad Tuesday, remains one of two U.S. players still in the competition (the other is Schalke's Jermaine Jones), but only just. His teammates will need a vast improvement on this performance in three weeks if they are to make the last eight. Porto is favored progress.