Klinsmann, U.S. get the result they needed vs. Mexico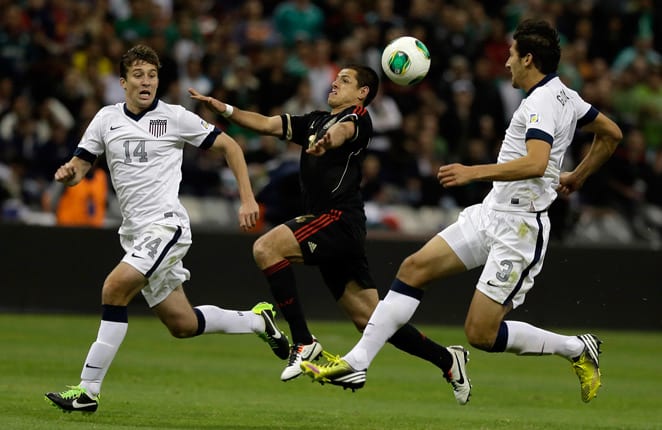 MEXICO CITY -- Last week, when the U.S. national team was beset by injuries and doubts over whether coach Jurgen Klinsmann had lost the locker room, the range of possible public opinions after the two World Cup qualifiers this week was fascinating. On one end was "Fire Klinsmann Now" if the U.S. lost both games to Costa Rica and Mexico. And at the other end was "Klinsmann is a genius" if the U.S. somehow found a way to win both games.
Well, look what happened. The U.S. grabbed four points in two games, beating Costa Rica and earning a point in Estadio Azteca for the second time in history on Tuesday in a taut 0-0 tie against a frustrated (and now winless) Mexico team. While Klinsmann didn't quite end up on the extreme "genius" end of the scale, he was closer than just about anyone would have expected 10 days ago.
In fact, it was Klinsmann's Mexican counterpart, Chepo de la Torre, who was the coach being serenaded by angry fans on the ramps of the Azteca after the game with the chant FUERA CHEPO! (Chepo Out!).
Despite the absences of several top players -- Tim Howard, Landon Donovan, Steve Cherundolo, Fabian Johnson, Danny Williams, José Torres and more -- Klinsmann made the right calls in the end, introducing DaMarcus Beasley at left back, moving Geoff Cameron to right back and going with a central defense of Omar González and Matt Besler against Mexico.
CREDITOR: Gonzalez, Guzan impress; more player ratings
When the U.S. says "Omar comin'," there's now reason to be scared in CONCACAF. The 6-foot-5 González was a monster in the second half on Tuesday, ranging all over the field to extinguish Mexican threats, and he and Besler had excellent chemistry despite the enormity of the occasion and their relative inexperience (just four World Cup qualifiers between them).
"We have to give credit a little bit to our January camp," said Klinsmann afterward. "It gave us the chance to have Omar and Matt work every day side by side. There was already a great understanding because they trained for a month together. So we were very calm. We knew that once it happened with Clarence [Goodson, who hurt a hamstring] this was the best move, the logical move, a move with a lot of trust and belief in Matt. He showed that. At halftime he came in with a yellow card. In a place like this against Chicharito this is a tricky situation. But he said, 'Coach, no worries, I'll be focused and nothing else will happen.'"
Meanwhile, Brad Guzan filled in for the injured Tim Howard and came up with several important saves, especially in the final manic 15-minute push by Mexico. "You don't come to a place like Azteca and walk out scot-free," said Guzan. "You know there's going to be points where you have to deal with a bit of craziness. For us it was that last 10- to 15-minute period. The credit goes to the guys in front of me limiting their chances, closing guys down and making it hard for them to have a clean look at goal."
While some unexpected contributors came up big, so did vets like Michael Bradley, who completed an astounding 57 of 58 passes in the central midfield, allowing the U.S. the occasional possession that let the game breathe. On Tuesday afternoon, Bradley had watched the Egypt team coached by his father, Bob, get a big 2-1 win against Zimbabwe to bring their World Cup qualifying mark to 3-0. The younger Bradley took those good vibes to the Azteca a few hours later, helping the U.S. grind out a result that changes the mood that had been around the team a week ago in the wake of a Sporting News story that quoted 11 unnamed players criticizing Klinsmann.
"This is still a team that over the years has shown that when big moments come, when the spotlight comes on the brightest, that's something we relish," Bradley said afterward. "So obviously last week, in the build-up to Costa Rica, things go on in the outside of the team that try to disrupt things on the inside. But I felt every guy did a really good job of keeping a strong focus and maintaining a real concentration that said the only thing that mattered was stepping on the field Friday night in Denver against Costa Rica."
"As soon as that game was over, we shifted our focus to this game," Bradley continued. "Look, there are a lot of things to still improve on, but when you look at the mentality of the team and what it looks like when we step on the field in big games, there's a lot to be proud of."
One of the proudest U.S. players might have been Hérculez Gómez, a Mexican-American who plays for Santos Laguna in the Mexican league. Gómez was beaming in the mixed zone after the game, knowing what lies ahead this week. "My teammates go home, and they go back to MLS, back to the Premiership, back to the Bundesliga," he said. "I'm taking an hour flight tomorrow back to Torreón and I'm taking a lot of bragging rights with me. I'm still undefeated against Mexico. I worked my tail off in two games and felt like I contributed. I couldn't be happier and prouder of my teammates. What we showed today is something we can build off for awhile."
Bragging rights matter in a rivalry like this. And now Klinsmann, who never lost to Mexico as a player or coach, has continued that streak as the U.S. manager, posting two ties and a win, none of them more important than the Golden Point the U.S. won here on Tuesday. At the end of a week that could have featured many different outcomes, the one he had was deeply satisfying. Not that Klinsmann let on anything.
"It's just part of my job," he said of the four points in two games. "We have a simple goal, which is qualifying for the World Cup. We want to improve this program one step at a time, which I think we're in the middle of and doing a very good job. And we're pleased there's so much discussion, so much debate out there. Because it shows you again you can't stop soccer in the United States anymore."
When you get the results to back up those kinds of statements, it's a good feeling indeed.