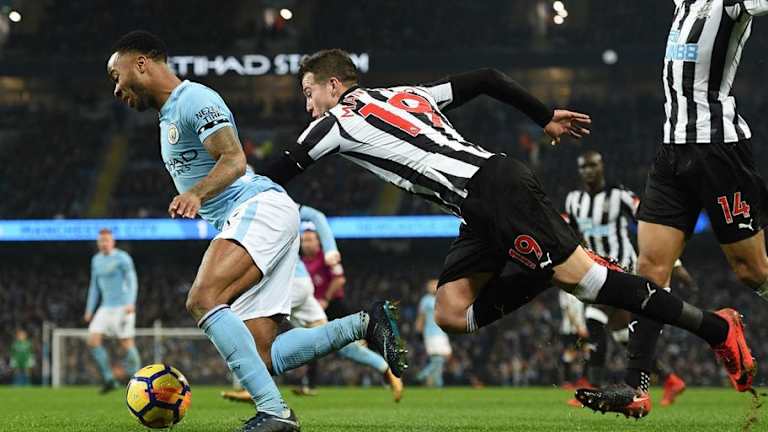 Newcastle United Fans Mercilessly Roast Defender Javier Manquillo on Social Media
Newcastle United lost 3-1 to Manchester City on Saturday night, and whilst such a fate is far from the most overtly humiliating occasion of the season, fans were quick to direct their apparent wrath towards right-back Javier Manquillo.
Despite Rafa Benitez's side offering City fairly admirable competition for much of the game, although admittedly offering very little on the ball, Manquillo's clumsy foul on Raheem Sterling that resulted in a penalty, coupled with his apparent all round ineptitude earned him the unwanted status as primary scapegoat. 
The Magpies now sit only two points outside of the relegation zone, and with the club's chances of proposed takeover growing slimmer every day, supporters have clearly had enough.
It is therefore understandable that the Tynesiders' ardent fans were in need of some venting, and the 23-year-old former Liverpool and Sunderland loanee, who came off injured in the second half, was the somewhat unfortunate recipient.
Here is some of the best reactions:
Newcastle, and indeed Manquillo's next chance to redeem themselves will be against Chelsea in the FA Cup fourth round next Sunday at Stamford Bridge, although fans will doubtlessly be hoping that by then the club will be in possession of a better option.
Despite the breakdown in takeover talks last week, Rafa Benitez will also be hoping for some new additions between now and then and, in more positive news, it has been reported that Mike Ashley has duly granted Benitez permission to make the necessary signings.
Meanwhile, United's next game in the Premier League will be against Burnley on Wednesday 31st of January, with a victory surely imperative to their pursuit of continued Premier League status beyond the end of the season.