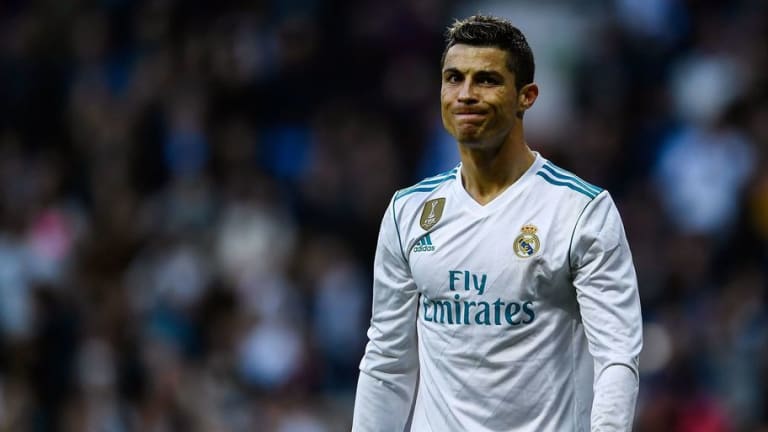 Cristiano Ronaldo Admits Only a Champions League Title Will Save Real Madrid's Lacklustre Season
Cristiano Ronaldo has admitted that only a Champions League triumph would be enough to rescue Real Madrid's lacklustre season. 
Zinedine Zidane's side have faltered in their defence of their Primera Division title as their desperate struggle for form has Los Blancos languishing in fourth place, which has enabled fierce rivals Barcelona to charge to an intimidating 19-point lead over them at the top of the Spain's first division. 
After crashing out of the Copa del Rey on Wednesday, Ronaldo conceded that Real Madrid's ambitions of silverware this season rest on retaining their European crown - in what would be their third consecutive title - but the Portugal international was insistent that he is yet to concede defeat in the league.
In an interview with Chinese outlet Doonquidi, via Marca, Ronaldo said: "If we can win the Champions League at the end of the year, it will be an incredible year. 
"We haven't started well in La Liga and we are disappointed, nobody is happy about that. But now we must work hard for the Champions League because it's the most important trophy for us.
(You may also be interested in Real Madrid Set to Be Without Two Key Men for Crunch La Liga Trip to Valencia) 
"It will be difficult in La Liga, but we can't give up, even if we have dropped many points since the start of the season. We have to keep working."
The Chinese outlet voted Ronaldo as their Footballer of the Year for the third year in a row, an award which arrived following his fifth Ballon d'Or triumph. However, the 32-year-old revealed the highest individual award in the sport is not what motivates him on a daily basis.
He said: "I'm not obsessed with that because I didn't even expect to win the five that I have won. It is good, though, and between myself and [Lionel] Messi, we have shared the Ballon d'Or for the last 10 years."
Whilst Ronaldo's club campaign has failed to reach the heights of the season prior, the 32-year-old has an opportunity to reach the ultimate high with his national side at the World Cup in the summer, but the forward knows a tournament triumph will not come without fierce competition. 
"Germany, Spain, Brazil, France and Argentina are going to be the favourites. Despite the fact that Portugal won't be included among the favourites, we always compete and will do so again," he added.