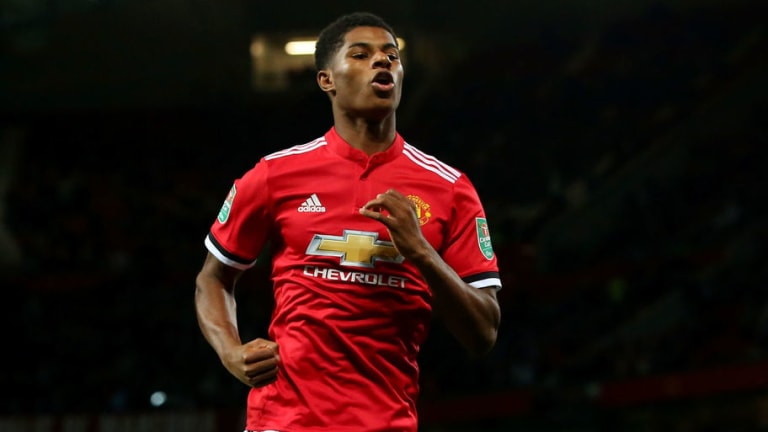 Among the Stars: How Jose Mourinho Plans to Use Alexis Sanchez to Avoid Hindering Marcus Rashford
Manchester United fans feared that the arrival of Alexis Sanchez might strangle the development of Marcus Rashford in the fierce battle for places at Old Trafford, but manager Jose Mourinho seemingly wants to use the Chilean to help, not hinder, the home-grown hero.
Rashford and Sanchez started together as United faced Yeovil in the FA Cup on Friday night, with the former scoring his first goal in seven weeks during the comfortable 4-0 win.
Rather than ignore the youngster now he has an established star at his disposal, Mourinho wants Sanchez to act as a 'mentor' to Rashford.
That is according to a report by The Sun, which equally notes that the ex-Arsenal man has been assigned the training ground locker next to the 20-year-old. And on Sanchez's other side is another home-grown player fast developing into a star, Jesse Lingard.
A source told the tabloid newspaper, "The gaffer is always looking for an edge. Jose likes players of all ages to be able to mix. It doesn't seem a coincidence that Alexis' new locker is right in the middle where Marcus and Jesse Lingard sit.
"There is also a feeling behind the scenes that Alexis can now take Rashford to another level."
The source further claimed that Sanchez is already involved in the dressing room 'banter' just days after joining the club, stating, "He's settling in really well here."
Having been the emergency choice for Louis van Gaal when he made his first-team debut in 2016, there were similar fears that Rashford's progress would be squashed when Zlatan Ibrahimovic joined the club. Instead, the Swede took his new young colleague under his wing.
It would therefore seem likely that Mourinho is hoping Sanchez will have a similar impact and teach Rashford things that Ibrahimovic couldn't to broaden his football education further. The youngster could also previously count on former captain Wayne Rooney as a mentor.