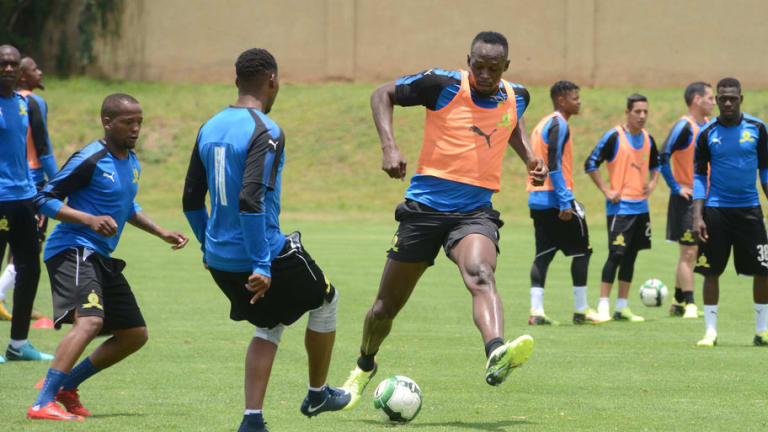 Olympic Legend Usain Bolt Set for Make or Break Trial With Borussia Dortmund in March
Sprinting great Usain Bolt is looking forward to his upcoming football trial at Borussia Dortmund, as he bids to forge a career in football post athetics.
The proclaimed Manchester United fan has often expressed his desire to switch his running spikes for football boots. After bowing out of athletics at the World Championships in London last year, Bolt has wasted no time in trying to pursue his childhood dream and secured a trial with the Bundesliga side in March this year.
The 31-year-old, eight-time Olympic Champion has said that the outcome of this trial will reveal whether he has a career in football. 
"After the trials, then I can determine if it makes sense to do it or it doesn't make sense. That's what the plan is," he said, as reported by Goal.
The possible signing of Bolt would be one of the most surprising additions to the Bundesliga, but with Dortmund currently sitting sixth in the table some fans could be excited by the prospect of the Jamaican running the length of the pitch in under ten seconds. 
The switch from the track to the pitch may sound strange but Bolt has dreamt of this for a long time. 
"One of my biggest dreams is to sign for Manchester United. If Dortmund say I'm good enough, I'll crack on and train hard," he said, as quoted by Express. "I've spoken to Alex Ferguson and I told him he needs to put in a good word. He told me if I get fit and ready, he will see what he can do."
Bolt has also offered to help out David Beckham after the former England captain announced his new MLS franchise in Miami. 
Beckham posted a video to his Instagram yesterday, thanking family and friends for their support, including a message from Bolt saying "If you need a striker, I'm the guy".