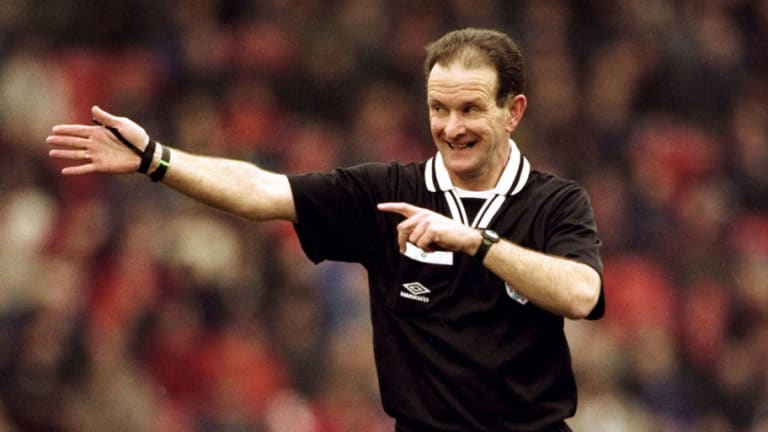 Former Premier League Referee Paul Alcock Dies Aged 64 After Battle With Cancer
Ex-Premier League referee Paul Alcock has passed away at the age of 64 after a battle with cancer.
Alcock became a Premier League match official in 1995 and was in charge of 94 top fight games in England between 1995 and 2000.
He is famously known as the referee who was pushed over by Sheffield Wednesday forward Paolo Di Canio in 1998. The English match official gave the Italian a red card during a game between the Owls and Arsenal at Hillsborough, before being shoved to the floor by the angry player.
According to the Daily Mail, Alcock died on Monday in a hospital in Kent after a two-and-a-half year battle with the illness.
Mike Riley, former professional referee and current managing director of the PGMOL, spoke about his sadness of the news of Alcock's passing and paid tribute to him. He said: "We knew that Paul had been ill for some time, but we are extremely saddened to hear of his passing. 
"Paul enjoyed a distinguished career as a professional referee at the top level and was hugely respected by all involved in the game. More recently, Paul had been helping to develop the next generation of match officials as an observer, mentoring them during games. He will be sorely missed and our thoughts are with his family and friends."
Alcock became manager of the Mall Chequers Centre in Maidstone after his retirement from football. He raised thousands of pounds for charity.
According to Kent Online, Bill Moss, a close friend of Alcock, also paid tribute to his career as a referee. The 68-year-old said: "I've known him many years and he was an absolute stalwart of town centre management and of course football which was his great passion.
"He reached the pinnacle which any aspiring referee wants to reach by officiating in the Premier League. Even after he retired, which he had to do aged 47, he stuck with it and became a referee assessor. I went with him many times to matches and it was obvious how respected he was from people across the game.
"He was one of those faces that everyone knew, and everyone wanted a piece of him."