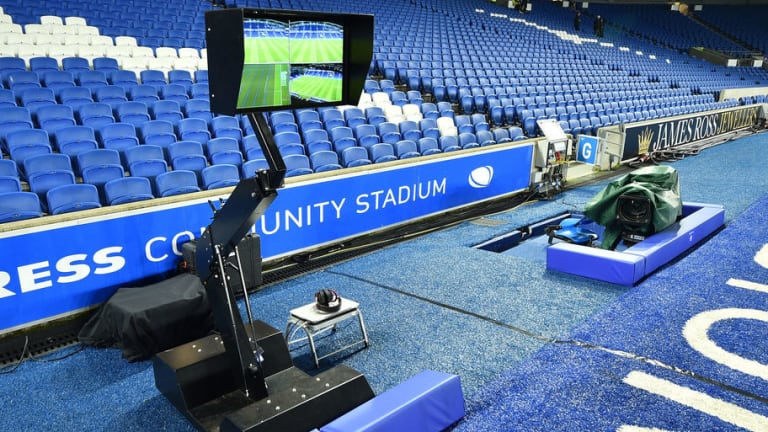 REVEALED: Football Fans Offer Their Opinions on VAR Use & How it Can Be Improved
Football fans are ready to see video assistant referee technology utilised in its full capacity in the Premier League.
A survey of 2,000 supporters conducted by Research Without Borders (h/t BonusCodeBets) revealed that nearly 80% of supporters in England's top flight wished to see VAR implemented in full as soon as possible.
Just 8% of those polled did not want to see the technology brought in, with the other 12% still undecided after seeing VAR used recently.
Of the fans from all 20 English top flight clubs that were surveyed, Brighton and Southampton fans are seemingly desperate to see VAR technology become a mainstay in the game, with every one of their fans wishing to see it given the green light by the powers that be.
In contrast, Burnley and Stoke City supporters were the least keen to see it brought in, with 33% of Clarets fans and 25% of Potters fans resistant to seeing any major changes with regards to the lack of technology currently used.
Alexander Kostin, Press Officer at BonusCodeBets, stated his belief that the use of a 'stop clock' – akin to that used in American Football – instead of VAR would also be the most radical overhaul of football since the back-pass rule was written into law over 25 years ago.
(You may also be interested in Mauricio Pochettino Hits Back at Dele Alli Dive Critics & Reveals Why VAR Will 'Kill' Football)

He said: "The use of video assistant referees is the hot topic in football right now, so it's interesting to find that most fans are in agreement that it should be introduced.
"While there have been a range of interesting ideas for improvements to the system, suggestions like using a stop clock in games would be a radical change for football as we know it – perhaps the biggest change in the game since the introduction of the back-pass rule in 1992."
What, then, do football fans make of the potential lengthy stoppages that would occur during matches if VAR was used for every contest?
The main reason provided by fans – 64% to be exact – was that supporters wish to see football 'stay true to its origins', although only 49% were against the fact that it caused too many stoppages during clashes.
A quarter of VAR skeptics would, however, be more open to the idea of change if improvements were made to the current system.
Around 37% of fans polled would like to see a limit imposed on the number of appeals teams could make against decisions that went against them, while 23% are of the opinion that match officials should have a set time limit to make decisions.
Twenty per cent of supporters, meanwhile, feel that live referee explanations, such as those seen and heard in rugby, would help fans understand why decisions were given against their sides.
And what of VAR's recent use in cup matches and on the international stage? 17% of fans surveyed now see VAR in a more positive light than before, while nine per cent now think of it in a negative fashion.
What does all this mean for the implementation of VAR? There's no getting away from its inevitable use, but the controversy that has marred it so far in football looks set to continue unless major changes are made to the current format.