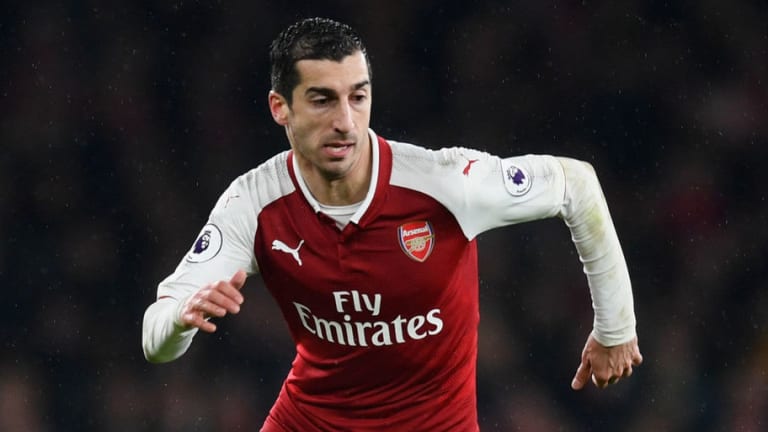 Henrikh Mkhitaryan Still Chasing 'Possible' Top 4 Premier League Finish Ahead of Europa League Win
Arsenal playmaker Henrikh Mkhitaryan still believes that a top four Premier League finish is possible for the Gunners to achieve this season - despite currently being eight points adrift in sixth place with only 11 games left to play.
Arsenal missed out on Champions League qualification for the first time in 20 years last season after only finishing fifth in the final domestic table. That put them in the 2017/18 Europa League with the incentive of a guaranteed group stage place if they win it, but Mkhitaryan thinks that getting back to the elite competition via the usual route is still doable.
"Of course [the Europa League] is very important, but I wouldn't say we stop ourselves from saying we are going to compete in the top four," the Armenian told ESPN.
"We are still in the competition because the English Premier League anything is possible," he added.
"Maybe sometimes, teams can lose two, three times in a row and we win our games so anything is possible. We are trying to win every game in every competition and, of course, we will be glad if we can win the Europa League as well, but if we can be in the top four, it will be even better."
Mkhitaryan was of course a Europa League winner with Manchester United last season, even scoring in the final against Ajax in Stockholm, and so knows firsthand the bonus on offer.
If Arsenal don't win the Europa League but finish fourth in the Premier League, it would mean playing a potentially tricky two-legged Champions League qualifier in August. Winning the Europa League would remove that possibility and put them straight into the group stage.
The Gunners booked their place in the Last 16 this week after a 4-2 win over Swedish club Ostersund, managing to hold onto their aggregate lead despite losing the second leg.