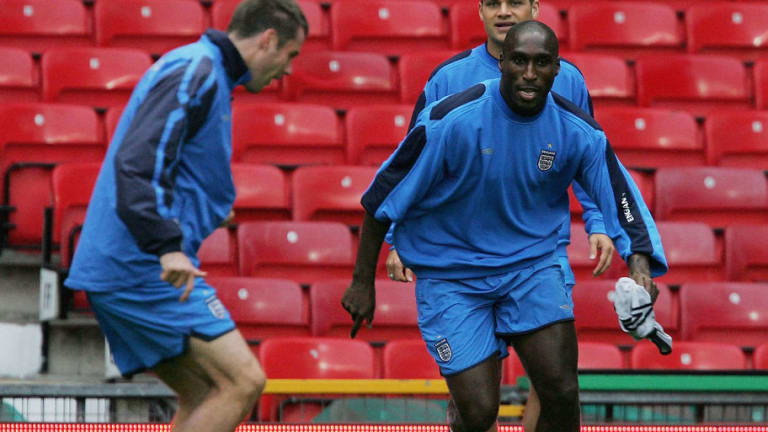 Sol Campbell's 'Greatest Mind in Football' Comment Provokes Typical Twitter Reaction From Carragher
Liverpool legend and Sky Sports pundit Jamie Carragher seems to have finally figured out why he never got much of a run in the England national team.
40-year-old Carragher, who did earn 38 caps at senior level, was largely third, fourth or fifth choice in among the Three Lions centre backs during the so called 'Golden Generation' that included the likes of Rio Ferdinand, John Terry, Ledley King and Sol Campbell.
It is the latter of those illustrious names, who has indirectly supplied Carra with the closure he needed over his stop start international career.
Campbell was recently interviewed for the managerial vacancy at League One side Oxford United, but was rejected with the job likely to to be offered to former Manchester City striker Craig Bellamy, much to the former Arsenal and Tottenham defender's chagrin
"I did go [apply for the Oxford job] and they didn't accept me," he said during an appearance on the Arsenal podcast Highbury & Heels (via the Daily Mail)
"I'm confident and it's not like it's rocket science to run a football club, especially when you get to that level. If you're intelligent enough and a quick learner you will learn pretty soon, within two or three games, what the team needs, training-wise, to survive in that league, get better in that league, to get in the play-offs or even win the league.
"I'm intelligent enough, it's not like I played on a fox and dog pitch all my life. I can't believe some people, I'm one of the greatest minds in football and I'm being wasted because of a lack of experience."
'I'm one of the greatest minds in football' was the phrase that unsurprisingly caught media attention with Carragher among those to react to Campbell's less than humble opinion of himself
Carragher quoted a tweet of a link to the Daily Mail story, and added the caption, '"No wonder he kept me out of the England team!' - to the delight of his legions of followers.