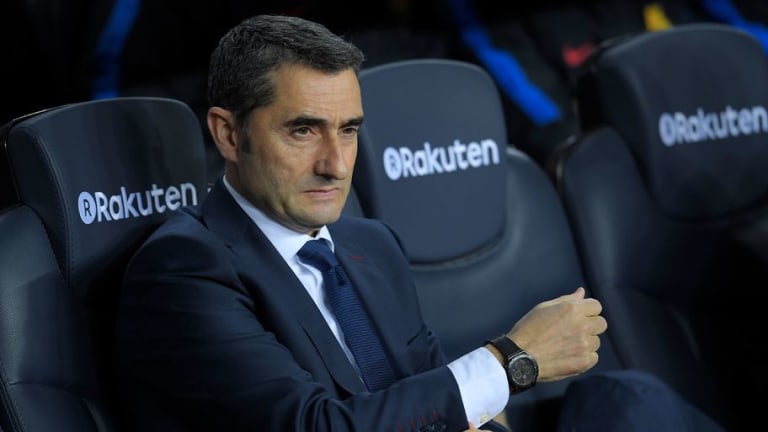 Ernesto Valverde Marvels at Lionel Messi After 6 Goal Thrashing of Girona at the Nou Camp
Barcelona manager Ernesto Valverde admitted he still gets surprised by Lionel Messi's extraordinary talents, after the Argentinian produced yet another blistering performance at the Nou Camp against Girona on Saturday night. 
Despite his fellow forward Luis Suarez collecting a hat-trick, it was Messi who stole the show with a breathtaking display of poise, skill and guile.

And, as reported by Marca, Valverde conceded in his post-match press conference that he could still be awestruck by the magician. He explained:  "Leo [Messi] makes things appear easy, but they aren't easy.
"It's hard to judge a performance like this. Just when you think you've seen everything from a player, he goes and surprises you once more.
"We are always waiting to see just how he will raise the bar next."
Aside from Messi's performance, there were also promising signs from the still acclimatising duo of Philippe Coutinho and Ousmane Dembele, and both made significant contributions to the victory with a goal and assist respectively, although the Frenchman showed his rust at times.
Speaking on the pair, the 54 year old declared: "Both are players who we have extremely high hopes for. Coutinho plays well in the midfield and scored a fantastic shot.
"Dembele has more depth, he's raw and is still very young. His injuries meant he skipped an adaptation period so he still needs to work."
Despite the resounding scoreline, the former Athletic Bilbao boss was also quick to stress the part Girona played in the affair, especially in the opening exchanges when they pressed the home side impressively.
He admitted: "In the first match we looked at their style, when they push up they leave a lot of players forward. It's a risk and when they go past that line and it's inevitable that we'd get more chances.
"Obviously we assessed their qualities, as every team has weapons and an ability to hurt you."
The La Liga leaders next action will be against Las Palmas on Thursday night, before the crunch clash with Atletico Madrid on the following Sunday.