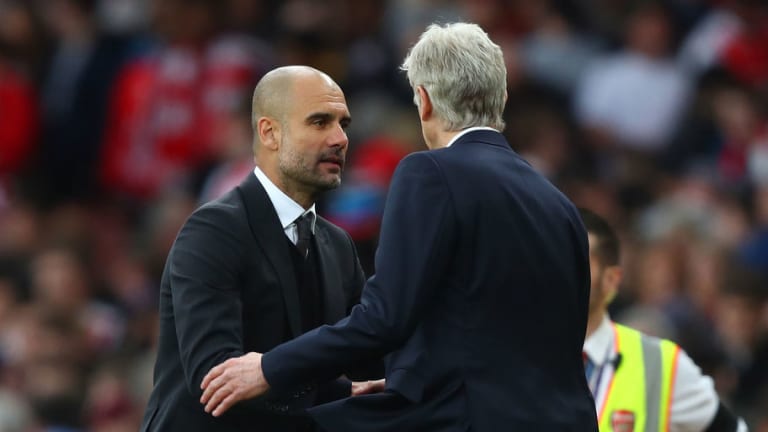 Man City Boss Pep Guardiola Reveals Dream of Playing Under Arsene Wenger at Arsenal
Pep Guardiola has revealed his unfulfilled dream of joining Arsenal under Arsene Wenger during his playing days.
The Manchester City boss visited Wenger at his home to discuss a potential move to North London.
But he was a told that a deal could not be done and missed out on the opportunity of playing in the Premier League.
"I would have liked to have played for him," Guardiola told Sky Sports ahead of Sunday's Carabao Cup final.
"I called him to make an interview and he invited me to his home, he was so kind. I said my dream is to play in the Premier League and I would like to play with you and I feel I can help you. Maybe it was a little bit arrogant but he had his squad and he said there was no space.
"I understand completely but I would have liked to have played with him. It was not possible, so no problem at all."
Ahead of the meeting between City and Arsenal at Wembley, Guardiola made clear the importance of securing his first trophy with the club.
"For the club. For me of course, and for the players and the fans, but for the club, for everybody. I am not alone here, I am not playing tennis when they are alone and doing absolutely everything," he said.
"For Manchester City it is important but after that you wake up and Thursday you have another one [in the Premier League against Arsenal]. Of course it's a final and you have to play it like a final."
Asked if he will be nervous, Guardiola added: "Never. I am more nervous when we are in quarter-finals or semi-finals or something but normally I enjoy a final. Of course we can lose because the opponent is good, but there is also optimism we can do it."
The Catalan coach also expressed his admiration for Wenger and his style of play. "He likes one type of player, with quality and respect for the ball," he said. "They are things I like a lot, so if people say we play a little bit like Arsenal of the last 20 years then it's good for us."