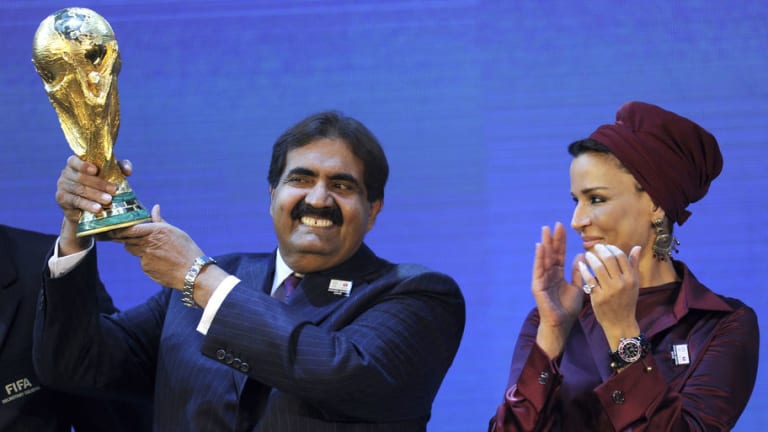 Sensational Reports Claim FIFA Could Strip Qatar of World Cup With England Tipped as Replacement
Shock reports from Germany have claimed that FIFA are considering stripping Qatar of the 2022 World Cup, with England and the USA in pole position to take over.
German news outlet Focus, citing Saudi sports minister Turki Al-Sheikh as their source, claim that FIFA are reconsidering the decision, made in 2010, to stage the World Cup in the gulf nation.
Major doubts have been raised over the bidding process, which saw Qatar emerge victorious despite having no experience of hosting an event of this magnitude.
There have also been regular troubling reports of human rights violations in Qatar, with serious questions raised about the safety, poor wages and general treatment of the workers. Amnesty International has claimed that Qatar endorses "forced labour" and workers have suffered human rights abuses, despite worker welfare standards being drafted in 2014.
The 2022 World Cup has been moved to the winter due to the extreme weather conditions experienced by Qatar during the summer months. It will take place in November and December, as opposed to the usual June/July schedule.
If FIFA do decide to strip Qatar of the World Cup, England and the USA are tipped as the two favourites to take over, as they already have the infrastructure in place to host a major tournament. 
The USA finished second to Qatar in the bidding process for 2022, while England bid for the 2018 World Cup but were eliminated in the first round of voting. Selecting England as 2022 hosts would contravene FIFA's policy of not awarding consecutive World Cups to the same confederation though.
FIFA president Gianni Infantino recently denied that FIFA were reconsidering the location of the 2022 tournament, telling a news conference: "we are confident that the 2022 World Cup in Qatar will be up to expectations."