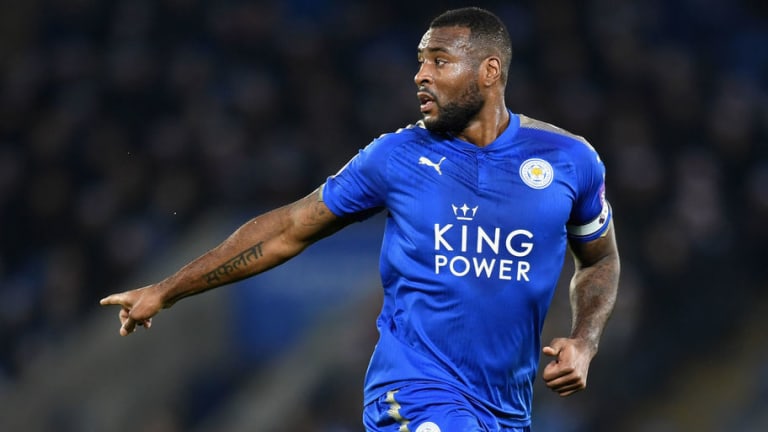 'I Want to Be With the Team': Wes Morgan Reveals His Dressing Room Influence During Injury Lay-Off
Despite spending six weeks out of action through injury, Leicester City captain Wes Morgan has remained an integral part of the Foxes performances from behind the scenes.
The Jamaica international picked up a hamstring contusion in the Foxes' clash against Huddersfield Town on New Year's Day, leaving him sidelined throughout a congested run of fixtures across the Premier League and the domestic cup competitions.
Although the Jamaican defender couldn't directly influence his side on the pitch during his injury lay-off, he ensured his presence wouldn't also be missed in the dressing room and on the training ground.
Speaking to the Leicester Mercury, Morgan said: "I'm there every day with the team, even though I'm in the medical room when they go out and train.
"In between those times, when we're having meetings and that, in the dressing room at the training ground, I'm always there or thereabouts.
"We've looked back on the injury and we know how it was caused. It was probably a silly way to do it – I over-lunged and then someone landed on top of me which couldn't be helped."
After a spell of six weeks out of action, Morgan was eager to return to the starting lineup, coming back from his injury in the FA Cup fifth round victory over Sheffield United, as well as retaining his place for the draw against Stoke City over the weekend.
"I feel okay – it was a good game to get back into it. It was another progression and I felt good.
"It was a strange feeling being out for so long and I don't want to be watching from the sidelines – I want to be on the pitch.
"I want to be with the team, putting all the effort in, so it was good to be back out there."
In his absence, Aleksander Dragovic filled the gap left by Morgan in the heart of the Leicester defence, performing admirably and making a good account of himself, much to the delight of the Foxes captain.
"He did very well, as did 'H' [Harry Maguire] but ultimately it's down to the manager's decision and what he thinks is best to put out on the field," Morgan said. "So I'm just glad to be back in."
Morgan will be looking to retain his place in the Leicester lineup this weekend as they host relegation candidates Bournemouth on the 3rd March, with a win potentially moving them past Burnley and into seventh place.
(You may also in interested in 'One Game at a Time: Wes Morgan Urges Leicester to Focus on Matches as They Come Ahead of Stoke Clash')