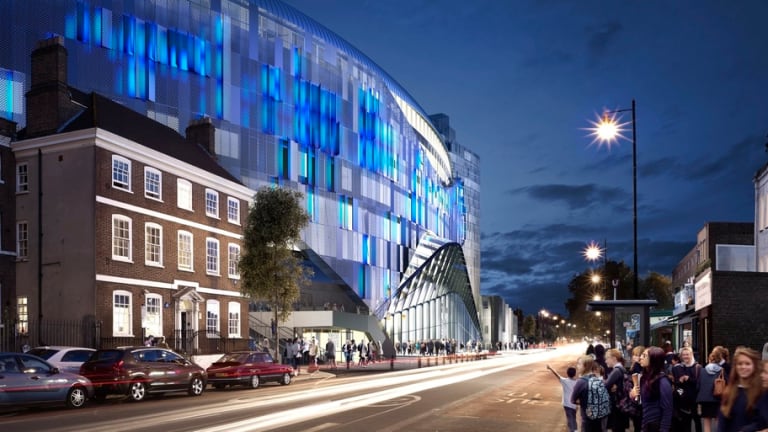 PHOTO: Tottenham's New Stadium to Light Up the Sky as Exterior Lighting Plans Revealed
Tottenham Hotspur's new stadium will light up the night's sky on dark match-days after it was revealed the 60,000-seater structure will house 170 glass panels that posses multiple linear LED luminaires. 
The 'New White Hart Lane', as it is has been colloquially named by supporters, will glow on match-nights, similar to other high-tech modern stadiums, such as Bayern Munich's Allianz Arena. 
The Sun claims that Spurs submitted the lighting plans to the council in November, with football.london stating the club currently have 1,600 people working on the project day and night for the ground to be complete for next season. 
The light-housing glass panels have already been secured to the exterior of the stadium, where they will give off a white shine to the dark evenings. 
Installing the roof is next on the list - which will eventually house 324 LED sports lights as floodlights -  but due to the high-tech aspects of the structure, any progress is dependent upon the weather. 
Initial plans suggest that Tottenham's new match-day complex will pay tribute to its predecessor White Hart Lane, boasting familiar features in an all-new, state of the art setting. 
Aside from Spurs, the venue is also due to host its first NFL game on October 14, when the Seattle Seahawks come up against the Oakland Raiders as part of a ten-year agreement.
It is also hoped that Mauricio Pochettino's men will not be overwhelmed by the stature of their new home come the beginning of next season, with their current year-long tenure at Wembley Stadium almost one to acclimatise the players for what is ahead.