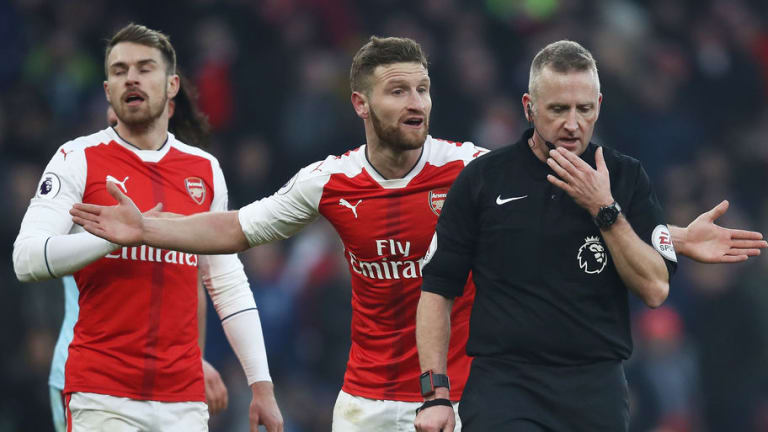 'Silly Mistake': Ramsey Points Finger of Blame at Shkodran Mustafi After Arsenal's Cup Final Defeat
Aaron Ramsey has laid into his teammate Shkodran Mustafi after Arsenal's 3-0 defeat to Manchester City in the Carabao Cup final on Sunday.
The Welsh midfielder was not happy when speaking to the club website after the defeat and pointed to Mustafi's 'silly mistake' as a turning point. 
A long kick from Claudio Bravo went over Mustafi, and the defender did not appear to make any attempt to get the ball, which allowed Sergio Aguero to run through on goal and make it 1-0 to City.
The Manchester club went on to dominate the final, with the Gunners mustering just three shots on goal during the game. Fans were not pleased after the defeat, and these feelings were echoed by Ramsey during his post match interview: 
''Obviously we're all very disappointed. We wanted to try and win the game but we made a silly mistake which led to the first goal and that was disappointing. It's always difficult when they take the lead and they're such a quality team. They deserved the win today [Sunday].
''I think Man City are a quality team and, like I said, they've opened up many teams this year. They did it on occasions to us today and they punished us every time. 
"We're disappointed. This is not how we wanted it to go, but we have to dust ourselves down now and get going for the game on Thursday.''
When questioned whether he was fully fit for the game after his recent injury, the Welsh international added: 
"No, I felt like I was ready to play the game. I've missed a little bit of training but I've worked hard this week to get back. I felt ready and it was just one of those days where things didn't go right for us on the pitch."
Arsenal will be hoping for revenge when they face City in the league on Thursday. Fans will not want the club to fall any further behind in the race for UEFA Champions League qualification.