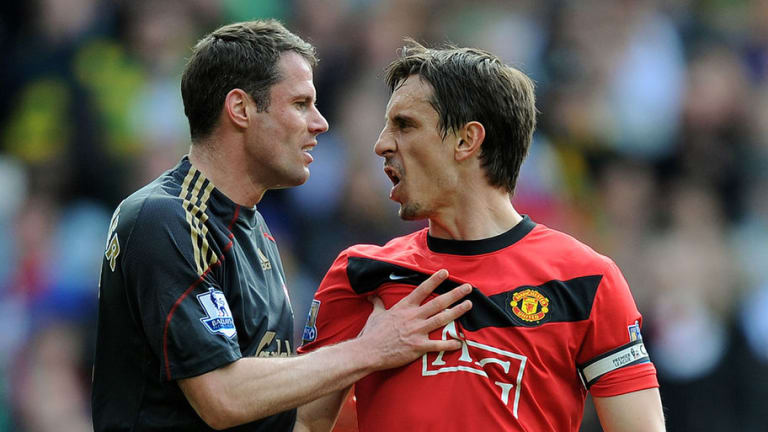 Gary Neville Reveals What He Thought of Jamie Carragher When Playing Against Him for Man Utd
Garry Neville has revealed what he thought of Jamie Carragher when facing off against the Liverpool defender while playing for Manchester United.
The duo are now colleagues as pundits for Sky Sports, but elements of their rivalry remain.
And on Monday, as part of a Q&A with his followers on Twitter, Neville made sure to get a subtle dig in on Carragher.
"What did you think of Carragher when you were playing?" asked one Twitter user. To which Neville responded: "Good chance he will score for us."
Neville was, of course, referring to Carragher's tendency to put the ball into his own net. The centre-back scored seven own goals during his Liverpool career, two of which came against United.
And it was a typical instance of the two pundits mocking each other, a regular occurrence when on duty for Sky Sports.
Neville answered a number of other questions on Twitter, including who he thinks has the best defensive partnership in the Premier League (Tottenham with Jan Vertonghen and Toby Alderweireld), and who is currently the best striker in the world (Luis Suarez).
Last weekend, Neville was at the centre of attention as he made clear his feelings on Arsenal's display in the Carabao Cup final. The Gunners were beaten 3-0 by Manchester City and the former United full-back condemned their "spineless" performance.
"I have to say, they're walkers, they maybe lacked confidence and the belief to beat Man City, but I called it pathetic - that might be too strong - I called it a disgrace," he told Sky Sports."I think that is not based on a single performance, it's based on two or three years now, watching these players do the same things and losing in the same way."