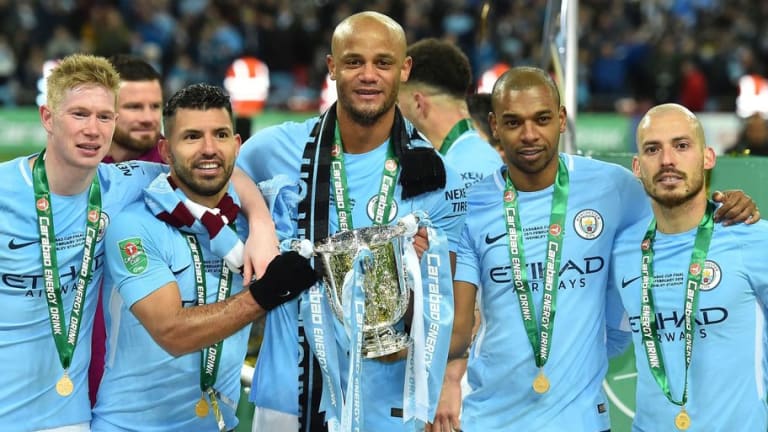 Kevin de Bruyne Eyeing Future of Continued Success for 'Very Young' Man City Team
Manchester City star Kevin De Bruyne is already eyeing more success after a 'very young' City team won their first trophy under the leadership of Pep Guardiola at the weekend, lifting the Carabao Cup at the expense of Arsenal after a comfortable final victory.
De Bruyne was previously part of the side that lifted the trophy after a penalty shootout win over Liverpool, but significant squad changes have taken place since then and it was the first time winning silverware in City colours for 11 players brought since Guardiola arrived at the club.
What's more, of that 11, John Stones, Aymeric Laporte, Leroy Sane, Bernardo Silva, Benjamin Mendy, Gabriel Jesus and Oleksandr Zinchenko are all aged 23 or younger. Goalkeeper Ederson is only 24, while Raheem Sterling, who predates the Guardiola era is also just 23..
At the age of 26, De Bruyne is already relative veteran and believes that Sunday's success paints a very bright picture for City's future.
"I think our team is very young," the Belgian is widely quoted as saying after the game.
"Since I came in two years ago, it's a totally different team. The transfer strategy that City got is amazing, so they did really well," he added.
For De Bruyne, this could be a watershed moment for City, especially as they now go on to chase two further trophies in what remains of the season.
"A lot of young players didn't win a lot in their career. So it will help them to get the experience of playing this game, the way you need to handle it, the way you need to end it," he explained.
"I think it will help in the future, if we reach finals, or important games, to be steady. I think the second half performance was absolutely wonderful from us. I think that showed the character and the way we need to play."
(You may also be interested in 'Kyle Walker Takes Dig at Former Tottenham Teammates After Finally Earning First Piece of Silverware')