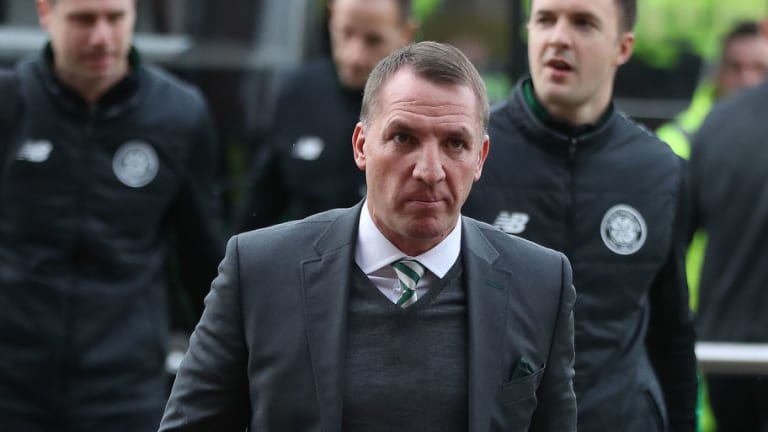 Brendan Rodgers in No Hurry to Leave Celtic 'Dream Job' Amid Links to Premier League Return
Brendan Rodgers has reiterated his happiness to continue as manager at Celtic, amid rumours of a Premier League return with Arsenal. 
The former Liverpool boss says it has been a 'dream' to manage Celtic, a club he supported as a boy, and is in no hurry to leave Celtic Park. However, Rodgers also admitted that he will reach a point with the Hoops where he have achieved everything he can and expressed his continuing love for the Premier League. 
"There will be a time at Celtic where I've done everything I possibly can here," Rodgers explained, as quoted by the Evening Times. "And between the club and I, we will look at it and see where we're at. I have to do the best with the resources we have here. That's not a lack of ambition. That's me at a club where I have a sense of happiness every day."
Rodgers has been one of the names tipped to replace Arsene Wenger at Arsenal at the end of the season. With the Gunners in a slump, it is yet to be confirmed whether Wenger will see out his current contract until the end of next season. However, it seems that former Borussia Dortmund boss Thomas Tuchel has emerged as the favourite to take over at the Emirates.  
"I love the Premier League," Rodgers admitted, "the quality of the players, the quality of the coaches. There are great challenges. But there are arms and legs flying off managers down there.
"You can come here and my genuine love is improving people and making them better, helping the club improve and getting the chance to develop and win things and see people improve. Or do you go somewhere where you might have six games? That wouldn't make me happy. So it's catch 22."
In just under two years in Scotland, Rodgers also already achieved so much with Celtic. The Scottish Premiership title, Scottish Cup, and back to back Scottish League Cups has made Rodgers the first manager in Celtic's history to win his first four domestic titles.
Under his management, Celtic also enjoyed an unbeaten domestic run of 69 games - a new record for a British club.
He added, "I'm in a position where I'm in my dream job. As a guy from Northern Ireland who supported Celtic and worked in football, I'm living my dream here. I want to work through until I'm 60 and get to a thousand games and I probably know I won't do the other 500-odd games here at Celtic.
"I know how quickly it can all change. I nearly won the title at Liverpool and everybody's saying, 'Sign him up', then very quickly I was out. Now I stay calm with it and never be complacent and do the best I can for the club. Winning is winning as a football manager and wherever that is, that feeling doesn't change."