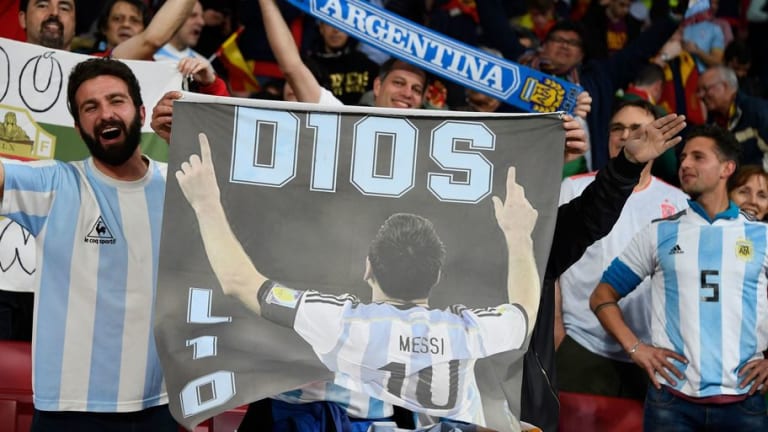 Spain & Atleti Front Man Diego Costa Insists Argentina Fans Need to 'Be Grateful' for Lionel Messi
Atletico Madrid and Spain striker Diego Costa told Argentina fans to give Lionel Messi a break, insisting they are lucky to have him as a player.
Costa scored the opener in Spain's shock 6-1 rout of Argentina in Madrid on Tuesday night, while Messi was sidelined with a hamstring injury that he has played through for some time.
As the World Cup approaches increasing pressure is being put on Messi in his homeland, as the 2018 tournament may be the last chance the five-time Ballon d'Or winner gets to win football's biggest prize.
Addressing the pressure, Argentina manager Jorge Sampaoli claimed Messi has 'a revolver to his head' as large sections of the public and national media demand he brings home the World Cup trophy.
Costa meanwhile used his post match interview to remind fans where Argentina could be without the Barcelona superstar.
"In Argentina, they love to to criticise Messi a lot," the former Chelsea star said, via AS. "Today, they have seen what they are without Messi. Argentina have to take care of Leo, they have to be grateful."
"If Messi wasn't there for them, how would they get by?"
The World Cup remains the one major unchecked box for Messi, whose greatest achievements at international level football remain winning the Under-20 World Cup in 2005 and Olympic Gold in 2008.
In the previous World Cup in 2014, Argentina were beaten in the final by Germany while Messi was named player of the tournament.