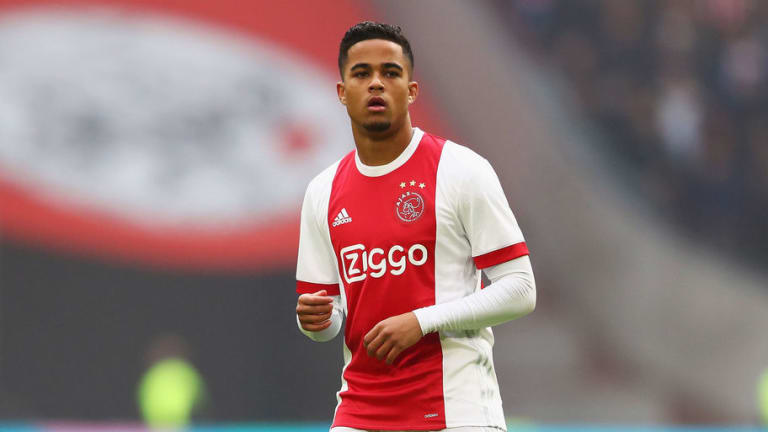 Ajax Wonderkid Justin Kluivert Has His Say on the 'Lionel Messi vs Cristiano Ronaldo' Debate
Justin Kluivert has revealed which side of the 'Lionel Messi vs Cristiano Ronaldo' debate he is seated on.
The Ajax wonderkid explained why he looked to the Real Madrid superstar as his 'role model' in an intriguing interview with Goal - despite admitting he favoured Messi - after Kluivert had been named the company's 2018 winner of their NxGn award on Wednesday.
You may have expected that Kluivert, given his family ties to Barcelona, would have selected Argentina megastar Messi as the man he looked up to - after all, the pair are both diminutive in size but have skill, pace and an eye for goal.
Yet is is Ronaldo that the 18-year-old models his game off of and, speaking to Goal, he explained why that was the case.
Kluivert commented: "I am Team Messi. He is the best player in the world, but Ronaldo is a role model for me. I'm sure Messi does it as well, but I like the way Ronaldo manages to deliver the message across social media. 
"He is an example to follow because of the way he lives for the game. That's just great."
Kluivert spoke about wanting to follow in his father's footsteps and one day play for La Blaugrana if they opportunity arose to do so.
If he did manage to play for the Camp Nou club, he would also follow Neymar's path in leaving his parent club to move to Catalonia and grace the biggest stage of all.
Kluivert has drawn comparisons with the Brazil and Paris Saint-Germain ace in recent times after he broke into the senior set up at Ajax 14 months ago.
(You may also be interested in Justin Kluivert Opens Up Over Barcelona 'Dream' in Bid to Follow in Legendary Father's Footsteps)

But, while stating it was nice to be mentioned in the same breath as Neymar, Kluivert said it would take hard graft and many years at the top of world football to even be labelled in the same group as the 25-year-old.
He added: "That is obviously great to hear, but Neymar is world class. It is my goal to become as good as he is and I train hard to get there on a daily basis. Of course, you go through difficult spells as well, but I am still only 18. I eventually hope to become as good as Neymar, though."