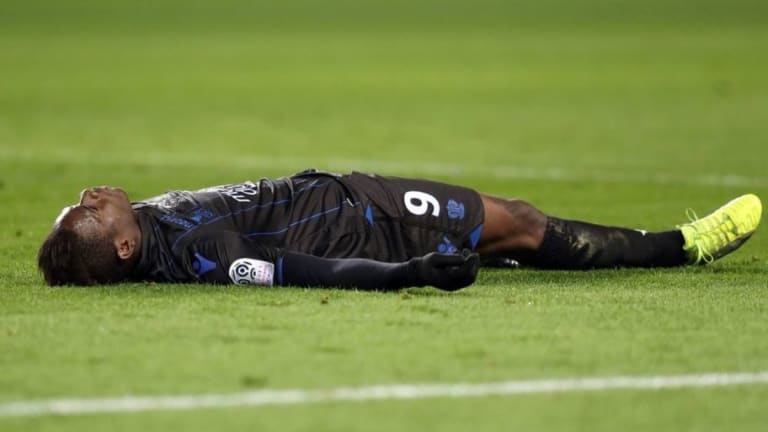 Mario Balotelli Claims He Deserved Italy Recall and Explains Why He Is More 'Mature' Now
Mario Balotelli has revealed how his hopes of an Italy recall were dashed in disappointing fashion during the March international break.
The Nice striker had been crossing his fingers over a potential return to the national team fold under temporary boss Luigi Di Biagio, but was left disheartened after he wasn't selected to feature in the matches against Argentina and England.
Speaking to La Gazetta dello Sport, Balotelli explained how his children and more mature outlook on life had helped him get a grip on his previous personality and allowed him to concentrate on becoming a force in football once more.
His 22 goals in just 31 games for Nice are proof of that, but he was still overlooked by I Azzurri - a decision which Balotelli is at a loss to explain.
He said: "I had been hoping [to be called up] because I felt I deserved it. I'm 27 now and I'm more mature, thanks to my children, and I've stopped hooking up with girls."
Balotelli last featured for Italy during the 2014 World Cup - the last of his 33 caps to date coming in the 1-0 defeat to Uruguay as his national side bowed out of the competition in shock fashion at the group stages.
(You may also be interested in 'The Boy Has Matured': Claudio Ranieri Urges Italian National Team to Give Mario Balotelli a Chance)

His last goal for his country also came during that ill-fated tournament - Balotelli scoring in the 2-1 win over England in Group D - but his international exile has continued ever since and it is unclear where his futures lies as the Italian Football Federation mulls over its next permanent appointment.
Balotelli is expected to leave France at the end of this term as he seeks a new challenge, with clubs in his homeland and in England said to be looking at him.
The forward, though, refused to say where he would want to play from the 2018/19 campaign onwards after being quizzed on the next chapter of his career.
He simply said: "Let's just say I'm somebody who lives on the borderline."