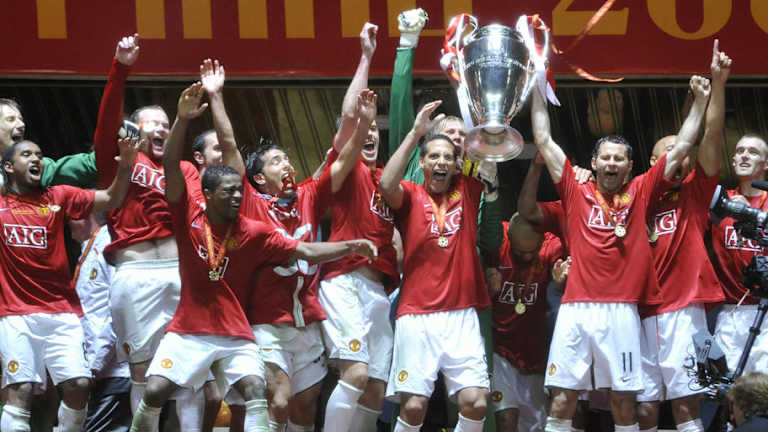 Capital cities are great hubs of trade, business, money, history, culture, learning, thought and so much more, but when it comes to winning the European Cup/Champions League, consistent success is strangely missing.
Real Madridare the most successful club in the history of the competition, winning 12 times to date and gunning for a 13th in 2017/18. They obviously hail from Spain's capital city, but Los Blancos are a relative anomaly when it comes to capital cities and continental success.
This season, Real are joined in the semi finals of the competition by Roma from the capital of Italy. The Giallorossi have never previously made it this far in the Champions League era and only once contested the European Cup final, losing to Liverpool in 1984. Meanwhile, the extent of neighbours Lazio's European success is the 1999 Cup Winners' Cup.
This season's other Champions League semi finalists are Liverpool and Bayern Munich, historically two of Europe's most successful teams. Between them, they have 10 European titles to their name (five each) and neither are based in capital cities.
Liverpool lead the way when it comes to English teams in the European Cup/Champions League. But from 12 English wins over the years (Manchester United, Nottingham Forest, Aston Villa and Chelsea), only one has come from London. That was Chelsea's surprise win over Bayern in 2012.
Besides Bayern, the only other German teams to have won the European Cup or Champions League are Hamburg and Borussia Dortmund. No Berlin club has ever come close, with Hertha Berlin experiencing something of a rollercoaster yo-yo existence in recent years.
In Portugal, Lisbon as a city only accounts for half of the country's four European titles. What's more, Benfica's two titles came more than half a century ago, with Porto twice winning - in 1987 and 2004.
Rome's lack of European success has already been discussed, with Italy's footballing triumphs at a continental level exclusively contained within the Milan-Turin duopoly. AC Milan are second only to Real Madrid in overall trophies after seven wins, while city rivals Inter have three titles. Juventus from Turin, meanwhile, have two European crowns to their name - 1985 and 1996.
And while Real are the dominant club overall, Barcelona have won five European titles, four in nine years from between 2006 and 2015, but again don't hail from the capital city.
There is even an argument to say that Ajax's European triumphs in 1971, 1972, 1973 and 1995 don't represent successes for capital cities because Amsterdam isn't really the capital of the Netherlands. It is in name, but The Hague, a no-mark city when it comes to footballing prowess, is the seat of the Dutch government and parliament and has been for 500 years. It is also the primary working residence of the Dutch royal family, the Supreme Court and Council of State.
Feyenoord (1970) and PSV Eindhoven (1988) have also won on behalf of the Netherlands.
As far as France is concerned, Paris has no European Cup/Champions League heritage. Paris Saint-Germain may have eyes on the competition, but the furthest they have ever been is a semi final in the 1994/95 campaign. French success came from Marseille in 1993, while Stade de Reims made it to two finals in the late 1950s, twice beaten by Real Madrid.
To really put this into perspective. Real Madrid and Ajax aside, only Benfica (twice), Steaua Bucharest, Red Star Belgrade and Chelsea are the only other clubs from capital cities to have been crowned champions of Europe in the last 62 years.
In 'Why England Lose & Other Curious Football Phenomena Explained', author Simon Kuper and economist Stefan Szymanski link Manchester's success as a football city to its status as the 'first industrial city on earth'. The north west of England, also home to Liverpool, boasts a high density of professional football clubs and analysis of this is applied to other cities, excluding former fascist capitals like Madrid, Lisbon, Bucharest and Belgrade, across Europe.
"Almost all of Europe's top footballing cities has a profile like Manchester's," Kuper and Szymanski write. "They were once industrial centres that sucked in hapless villagers. The newcomers cast around for something to belong to, and settled on football. Supporting the club helped them make a place for themselves in the city. So clubs mattered more here, and grew bigger, than in capital cities or ancient cathedral towns with old established hierarchies."
If Roma can find it within themselves to win the Champions League this season, they'll not only have beaten the odds, but also nearly 60 years of failing capital cities in Europe's biggest club competition.