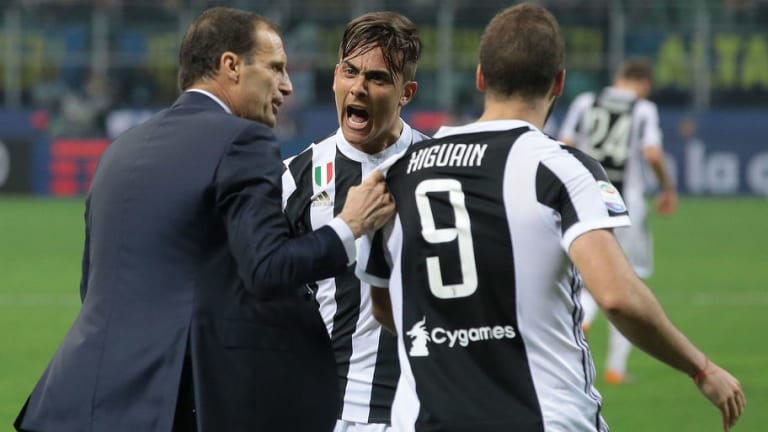 'You're Ruining the Game': Juventus Boss Allegri Launches Into Furious TV Rant After Win Over Inter
Juventus manager Massimiliano Allegri was in combative mood after his side's late 3-2 victory over Inter in Saturday's Serie A clash at the San Siro - a result which puts Juve back on course for a seventh straight Scudetto after last week's home defeat against Napoli.
Douglas Costa's first-half strike, an own goal and Gonzalo Higuaín's header were just enough to earn I Bianconeri an unconvincing win over 5th-placed Inter.
Speaking after the match to Sky Sports Italia and quoted on Football Italia, Allegri acknowledged that his side had been below their best:
"At this moment, we are lacking sharpness," he admitted, before explaining: "We should've found Mario Mandzukic and Douglas Costa between the lines, but when we went forward, we didn't change gear."
However, the Juve boss was distinctly unimpressed by the suggestion that his side should have dominated ten-man Inter, after poor results against Crotone and Napoli:
"We played badly last week and against Crotone, but it's not easy to win all the time," he replied, before pointedly adding, " In 21 games we won 18, drew two and lost only one."
Allegri became increasingly bad-tempered as he attacked what he saw as an excessively tactical approach to football: "Football is becoming too much about theory and tactics, you're ruining the game," he said.
"You don't look at players or skills, but only systems, that is what's damaging Italian football!" exclaimed the Juve manager, also commenting sarcastically: "But no, you go ahead and keep talking about tactics and don't watch champions play. Yeah, well done."
Before the interview started becoming almost as fractious as the preceding match - in which both he and an Inter player were sent off - Allegri also acknowledged that he had just taken part in an outstanding game of football: "I think football was the winner, as we saw two teams battle it out to the end in front of a marvellous crowd," he said.
Ultimately, however, he was more interested in the significance of the result for his side, as he explained: "Winning was important, we've taken another small step towards the Scudetto and need to win another three."