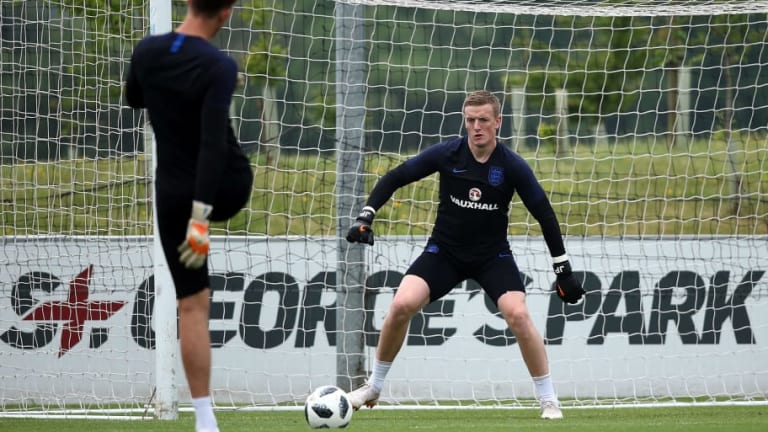 'I'll Take One': Everton Stopper Jordan Pickford Reveals How England Are Preparing for Penalties
England stopper Jordan Pickford has revealed that he and his teammates have been practising penalties ahead of this summer's World Cup. 
England have lost six out of seven competitive shootouts, and while the team aren't taking anything for granted, Gareth Southgate wants his players prepared.
It's hard to judge the nation's World Cup expectations this time around. Having failed to deliver anything impressive for years, nobody seems to think England will pull up any trees - yet there's a strange sense of optimism ahead of Russia.
However, Pickford, who's gunning for the number one spot, has admitted that the players are preparing for every eventuality.
"We've been doing the walk from the halfway line," he told the Guardian. "We're not looking too far ahead but behind the scenes we're doing a lot of work to be prepared for how we'd want to go about it.
"It's pot luck sometimes. Sometimes you've just got to pick a side [to dive to], wait and attack that side. If you get there you get there and if you don't, get the next one. It's like a lottery. If you save a couple you can be a hero but there's no pressure on you."
The 24-year-old even went on to admit that he'd be happy to take a spot kick if called upon, though Pickford has never actually done so before.
"If I need to step up, I'll take one," he said. "I've got no issue with that. I've never taken one in a shootout but I'm always practising in training.
"I remember the Under-17s World Cup, I was down as third to take one. But the manager, John Peacock, changed it so I dropped to seventh and the lad who took the third penalty smashed it over the bar."