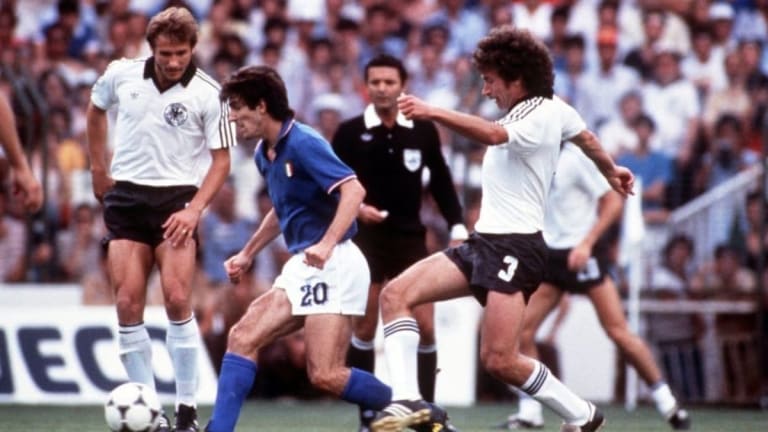 World Cup Countdown: 9 Days to Go - What if Paolo Rossi Had Still Been Banned?
If you want to start a fierce debate among football fans, then simply ask them to name the best team never to have won the World Cup. It is a question that can never have a definitive answer, only opinions. For some it will be Hungary in 1954, for others it will be the Dutch side of 1974. Personally, it must be the Brazil team of 1982. 
The Hungarians were certainly innovative, the Dutch unquestionably stylish, but arguably only the Brazilians played beautiful football. Some teams are feared, others respected, but precious few are loved. The Brazil side of 1982 were genuinely loved, and they still are to this day. Why? Well, perhaps it's because they were the last team that tried to win the World Cup by scoring more goals than the opposition, rather than worrying about how to concede fewer.
The Brazil side of 1982 were the creation of Telê Santana, a renowned advocate of attacking football. Fortune bestowed upon him a quartet of wonderfully gifted attacking midfield players and, rather than choose between them, he found a way of fielding them all. 
The leading prince amongst the four musketeers was Zico, a naturally gifted playmaker who specialised in scoring from free kicks, bending the ball around defensive walls at searing pace and with unerring accuracy. He played alongside the team's captain, Socrates; an unconventional, deep thinking figure, just like his namesake. The lanky Brazilian was an unmistakeable presence whenever he graced a football pitch, strolling around with an almost nonchalant air. Yet, behind that disguise, lurked a keenly intelligent football mind. 
Socrates was an acute reader of the game and would use his vision to great effect, spraying sublime passes around the pitch. Playing behind those two were Falcao, full of quick movement and darting runs, and Cerezo, an energetic player so blessed with natural fitness that he was able to carry on playing well into his forties.
Brazil went to the 1982 World Cup as one of the favourites. Not only did they have some of the most talented players on the planet at their disposal, they were also in imperious form. They were undefeated in nineteen internationals, and 15 of those had been won. England had been beaten at Wembley, West Germany in Stuttgart and France in Paris. Then, in their final warm-up game before the tournament, Brazil beat the Republic of Ireland by seven goals to nil.
In Brazil's first two games at the World Cup both the USSR and Scotland had the temerity to score first, though they would be suitably punished for their impudence. The Soviets were eventually beaten by two goals to one and the Scots by four goals to one. What was most impressive, however, were not simply the scorelines, but the nature of the six goals scored. Only one of them was ordinary; the other five were all spectacular efforts, fired in from distance past dumbfounded goalkeepers.
An inevitable victory over New Zealand followed, but Brazil obtained scant reward for finishing top of their group, ending up having to play Argentina, the reigning champions, and Italy. The 1982 World Cup was the first to feature 24 nations, which presented a problem as that number of teams did not fit easily into a knockout competition that had to produce two finalists. The solution was for the two top placed teams in the six first round groups to progress to four second round groups of three teams, the winners of which would make up the semi-finalists.
Both Brazil and Italy beat Argentina in their second round matches, though crucially the former scored an additional goal in doing so. That meant Brazil only needed a draw in their final fixture to make the last four, while the Italians had to win. 
Brazil had been in coruscating form up to that point, so few expected them to falter. Italy, meanwhile, had failed to impress. They had been drawn into a not particularly difficult first round group with Cameroon, Peru and Poland, but still made hard work of it; drawing all three matches and only progressing because they scored two goals in comparison to Cameroon's one. Their subsequent victory over Argentina was a step in the right direction, though not one large enough to suggest they could overcome the sensuous, strolling Brazilians. 
The favourites hadn't reckoned, however, on Paolo Rossi; a lithe poacher whose stock in trade was to lull defenders into a false sense of security before suddenly popping up to score the winner. And this striker was about to appear from nowhere.
Rossi had been absent from football for the previous two years after an alleged involvement in a betting scandal, though he denied the charges made against him. He was originally banned for three years, but this was later commuted to two; a decision that meant he could play in the World Cup. 
Despite having only played in a handful of Serie A games, the Italian manager, Enzo Bearzot, immediately welcomed Rossi back into the fold. His patience would be sorely tested, however, as Rossi struggled to find any semblance of form. He played in five internationals prior to the game with Brazil, not only failing to score in any of them but also looking well off the pace. 
In the game that mattered most, however, it took Rossi only five minutes to finally come alive, racing in unmarked at the far post to bury a header past the goalkeeper. The Brazilians were soon level, though. A delightful sequence of passes between Socrates and Zico ended with the bearded captain shooting the ball low between Zoff and the inside post, leaving the veteran goalkeeper on his backside, looking every one of his forty years.
Then, 13 minutes later, came a tragedy of almost Shakespearean proportions. The normally reliable Cerezo received the ball 35 yards from his own goal and, for reasons he probably still can't fathom, played a square ball across his defence without looking properly to see if any danger lurked. Rossi latched onto the ball before it reached its intended target, raced forward and fired it into the net from the edge of the penalty area. 
The Italians kept their lead until midway through the second half, when Falcao received the ball on the right hand edge of the penalty area. Cerezo went on a strong run to his right and Falcao motioned as if he was going to pass the ball to him. That feint instantly wrong-footed three Italian defenders and created a small gap in the defence; Falcao immediately took advantage of it, smashing the ball past the helpless Zoff. It was a goal of sublime beauty and wondrous power; Brazil at their best.
There were just over 20 minutes of the game remaining and what Santana's side should have done was pass the ball around between themselves, closing the game down. What they did, of course, was to continue attacking in search of a winner they just didn't need to get. 
The predictable consequences were soon felt, with the Italians restoring their lead within six minutes of Falcao's goal. Cerezo needlessly gave away a corner which the Brazilian defence subsequently failed to clear, leaving Rossi (who else?) to get on the end of Tardelli's feeble shot, tucking the ball past the goalkeeper. Brazil tried desperately to get their third equaliser, but it was to no avail. Sadly, the yellow shirted marvels were out.
A resurgent Italy went on to beat Poland in the last four and then West Germany in the final. Few could begrudge them their hard-earned triumph, but could they have done it without Rossi? 
For all their attacking prowess, the Brazil team of 1982 had a fatal flaw written into their DNA: a defence that was barely worth the name. They would always be vulnerable to the probing of a world class striker and the svelte Rossi was destined to be that man. He may only have been the tip of the blade, but one suspects the Italian sword would have been too blunt without him.
Simon Turner is the author of 'If Only: An Alternative History of the Beautiful Game' published by Pitch Publishing. You can follow him on Twitter at @simonaturner100