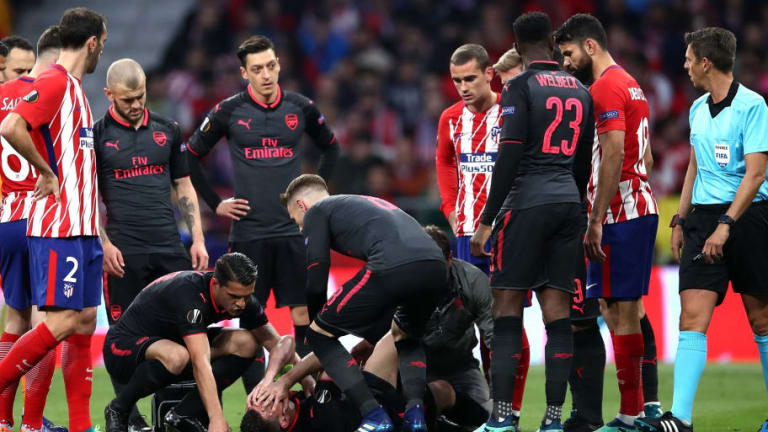 Arsenal Defender Laurent Koscielny Provides Positive Injury Update Ahead of 2018/19 Season
Arsenal's French defender Laurent Koscielny has provided a promising update on his ongoing injury issues as he looks to return to full fitness at some point throughout the 2018/19 season. 
Koscielny sustained an injury to his achilles in Arsenal's Europe League semi final second leg game against Atletico Madrid in May, subsequently forcing him to undergo surgery in order to fix the issue.
Subsequently it meant that the 32-year-old Frenchman would miss the entirety of the World Cup in Russia, as well as there being fears that he would not be able to return to action for the Gunners until 2019.
However, the veteran defender has since provided a positive update on his situation, taking too social media in order to post a video showing him walking for a short distance without crutches.
Posting on Instagram, the Arsenal defender captioned the video 'it's good to walk again', and despite treading cautiously, the Frenchman looked to be getting around without discomfort - a promising sign for Gunners fans.
Opening up on his rehabilitation programme, Koscielny acknowledged he still has along way to go, but his recovery looks promising nonetheless.
Speaking on how he is spending his time recovering, the French defender responded, "My programme? Television, crosswords and Nintendo.
"I am now wearing a boot, which allows me to walk on crutches. "In three months I hope to resume light jogging. In five months I could certainly retouch the ball."
Despite Koscielny's promising recovery, new Arsenal boss Unai Emery will still be without one of Arsenal's most trusted defensive guardians at the start of the new season, prompting the former Paris Saint-Germain manager to look into defensive cover.
One target the Spaniard had identified was Borussia Dortmund's Sokratis Papastathopoulos, with the Greek defender set to be unveiled as an Arsenal player at the start of July.