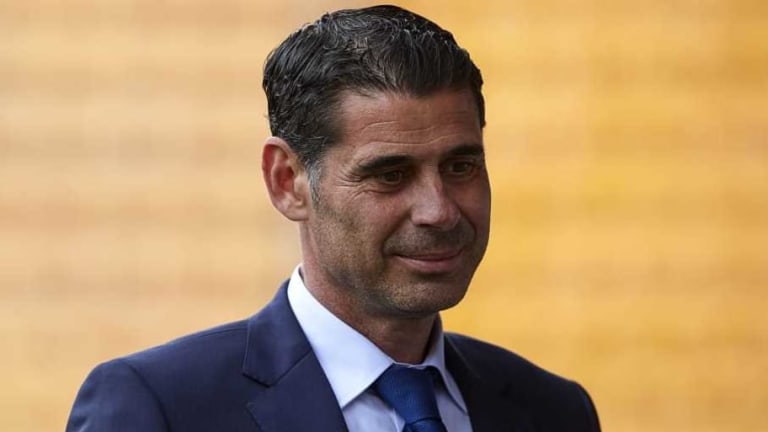 Fernando Hierro Criticises Poor Spain Defending Despite Winning World Cup Group
Spain manager Fernando Hierro has bemoaned his side's poor defending as they scraped through a controversial World Cup match against Morocco to win Group B
Hierro's men fell behind twice during the game, but salvaged a point late on when they were controversially awarded an equaliser via VAR - despite the linesman having already flagged for an offside.
The draw saw Spain progress to the last 16 as winners of their group, and will now face tournament hosts Russia on Sunday.
Speaking in his post-match press conference, Hierro told reporters (per Sky Sports): "Obviously we can improve, there are things that definitely need to be worked on, and we will definitely be self-critical.
"Five goals in three matches is not the way forward, I've told the players that. But they are professionals and understand.
"We have to be very demanding of ourselves, and be clear in our mind that if they score against us so easily it will be very difficult to reach the ultimate goal."
The 50-year-old Spanish boss also took the opportunity to respond to criticism that the Spanish side is still very much under Lopetegui's identity and that he has not truly taken sole charge of the team.
"Julen Lopetegui has his job now, I have my job, and I have my hands full now. Obviously we are not sending texts to each other, we each have our own personality and identity.
"Right now I am the head coach for all intents and purposes. But yes we are friends, and we might communicate as friends, but we do not talk about football and tactics.
"Please don't think that whenever I have to make a decision I text Lopetegui and ask for his opinion! All of that is water under the bridge, I am aware of my responsibility and I accept it fully."