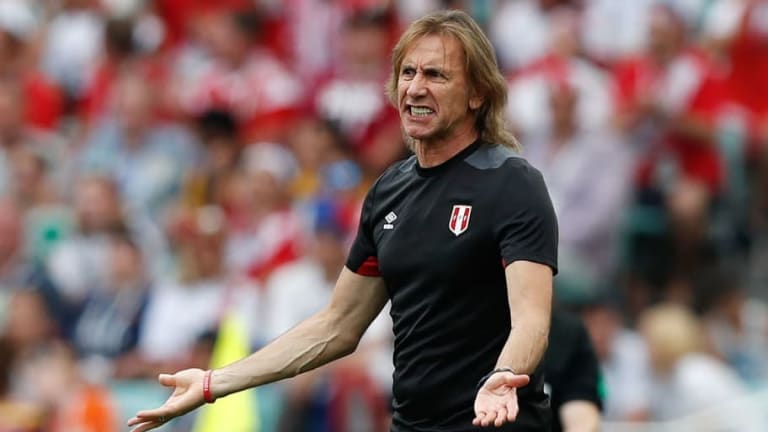 Ricardo Gareca Enjoys 'Joyful Feeling' After Peru Bow Out of the World Cup With a Win
Peru manager Ricardo Gareca said that Peru could return home "with our heads high" after they ended a 40 year wait for a World Cup win with victory over Australia in Sochi.
The Incas were already eliminated from the tournament going into the game but goals from Andre Carrillo and Paolo Guerrero ensured that their journey to Russia had not been in vain.
Gareca, who had called for the players to give their fans goals and a win to cherish, was thrilled that they were able to rise to the challenge.
"It is a joyful feeling. This was a very difficult match in terms of psychology, we had to be strong after we had lost unexpectedly twice," Gareca said, as quoted by BBC Sport.
"We played against a team who is a tough, very strong and physical team and they could qualify so their players made a huge effort.
"In the stadium we had all of these people supporting us. We can leave the World Cup with our heads high."
Peru narrowly lost their first two games to Denmark and France, but the style of football they played has earned them many plaudits.
They have also attracted attention for the quantity and passion of their supporters, who have followed them in huge numbers over many hundreds of miles from Saransk to Yekaterinburg to Sochi.
Denmark manager Age Hareide, speaking after his team's 0-0 draw with France, echoed the sentiments of many observers when he said: "The team that only got three points, Peru, perhaps played the best in our group."
Gareca now has a big decision to make about his future. The Peruvian media are desperate for him to stay in the job after doing what no Peru manager had managed in 36 years by taking them to the World Cup.