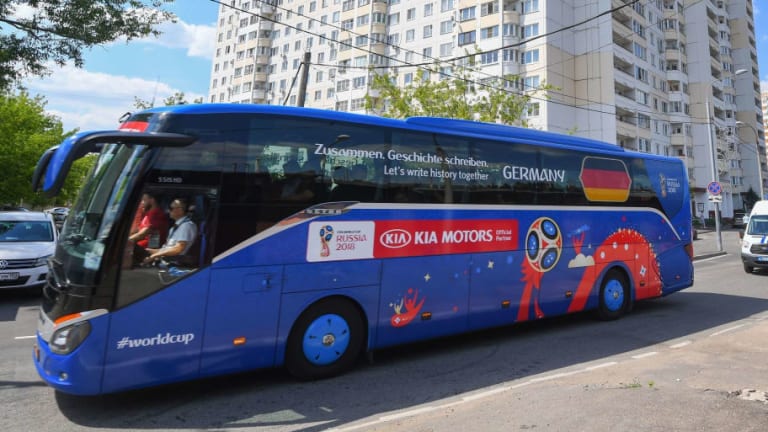 PHOTO: Germany Team Bus Slogan Hilariously Sums Up Die Mannschaft's World Cup Campaign
The slogan on Germany's team bus rang true as the 2014 World Cup winners made their way out of Russia, but not in the way they'd ever imagined.
Having emerged as the favourites to win the 2018 World Cup, following their exploits four years ago, Die Mannschaft were shockingly knocked out of the tournament's group stage for the first time in 80 years.
An opening loss to Mexico was followed up by a late win against Sweden. But Joachim Low's men were handed another shocker at the end of their last match on Wednesday, with South Korea scoring twice in stoppage time to beat them 2-0 and send them packing.
They've since made the shameful flight back home, and the words on their team bus have coincidentally summed their World Cup campaign up.
The slogan: "Let's write history together" was printed across the windows. And given the circumstances under which they left Russia, they were actually right on point.
As mentioned earlier, they've never left the World Cup this early before, plus it's the first time Low has failed to take them to the semi-final of a major tournament, having coached them in five. As they say, you can't make this up, yet Germany kind of have.