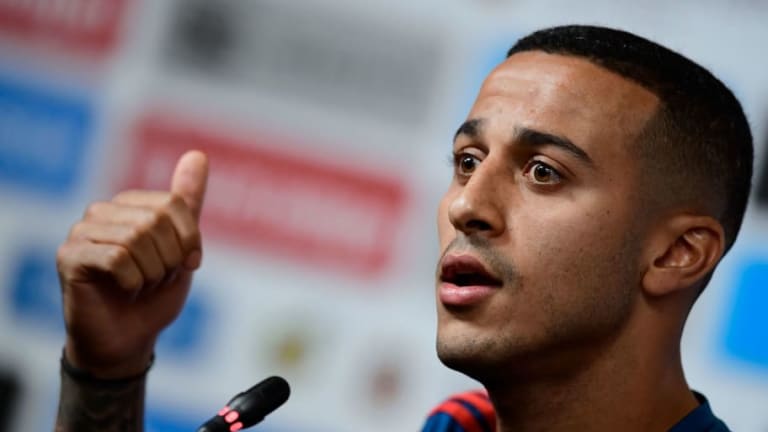 Spain's Thiago Admits He 'Enjoys English Football' the Most as He Weighs in on Three Lions' Style
Bayern Munich and Spanish midfielder Thiago has admitted to enjoying the style of England's top flight more than any of Europe's other top five leagues as he lifted the lid on the reason for Spain's continued success. 
The 27-year-old has had his football education influenced by a host of experiences across the world having been born in Italy to Brazilian parents, raised in Spain and now currently playing in Germany.
The need to adapt and understand the nuances of each country's particular style has made him a student of the game and a footballer who is constantly aware of the areas he needs to develop. 
"Football's always been cerebral. The most important thing is thinking fast. I have my personality, my style, but my development's been about adapting. I've always wanted to learn in the areas where I'm most lacking," he told the Guardian. 
His very desire to extend his knowledge of the game spans into watching how the sport is played across the world, and he knows the variations are critical in making each league and each nation unique.
"I'm generalising here," he said.
"Barcelona's football education has concepts different to the Brazilian game and at Bayern you grow physically. I have my own way of playing but I showed from the start I could handle it. 
"Physically I'm strong. What there is less of in Germany is technical quality, so that allowed me to make the difference. And I'll always play according to the team's needs. 
"In Spain everything's more tactical, more technical, with more possession. In Germany it's more physical; it's about the runs you make, the counterattacks and the German mentality is unique: whatever the score, you go to the 90th minute."
"In England it's as physical as Germany but it's about the duels you win: defender against forward, midfielder against his opposite number. There's more long balls, more players arriving in the area too. It's not so much speed as strength.
"I love watching English football. It's the league I most enjoy. And the national team have undergone a good transition: they have a very good team."
When asked if the Three Lions lacked a certain control in the middle of the park, a role he plays for Spain he added, with a grin: "That's your problem, not mine.
"And anyway look at Liverpool's midfield: Henderson, Milner, Chamberlain, they pressed like animals in the Champions League. They ate up the midfield. They were fantastic."
Whilst England have been accused of lacking a particular style which is ingrained in players from their youth, Thiago admits there is no such issue with Spain regardless of who is at the helm. 
"Spain started to generate a very good playing style from Pep Guardiola's arrival at Barcelona. The difference comes when you insist on that regardless of whether it brings [immediate] results.
"Spain play that way because we're brought up with it, we feel more comfortable. More than us having an idea, it's the clarity, the certainty. This is our style and we stick with it until the end," he added.