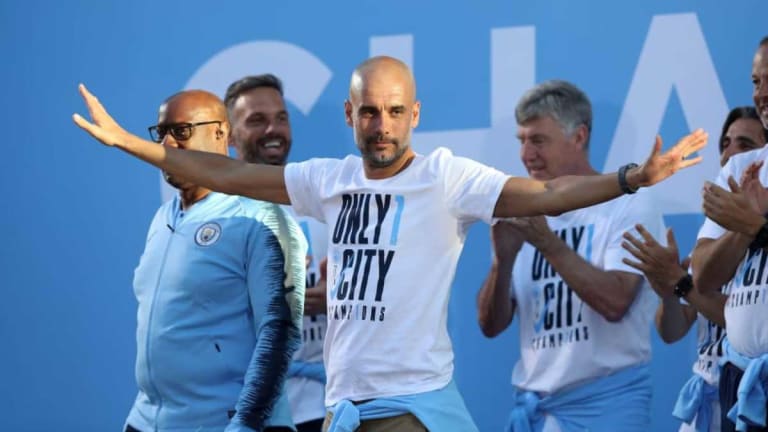 Argentina Eyeing Ambitious Approach for Man City's Pep Guardiola to Take Over From Jorge Sampaoli
The Argentina FA are set to approach Pep Guardiola regarding the vacant head coach role for the national side.

This news comes off the back of another disappointing World Cup campaign for Argentina after losing 4-3 to eventual winners France in the round of 16 stage. As a result of the early exit, Jorge Sampaoli was sacked as head coach of the national side and the search for Argentina's potential saviour continues.
A number of names have been thrown into the mix, however one name has stood out more than others. According to Spanish news outlet Marca, Pep Guardiola has emerged as Argentina's preferred choice of coach, and that they are lining up an offer for the Manchester City manager.

The reports refers back to a statement Guardiola made before Sampaoli was sacked saying that so long as nobody was in charge of the national side he would listen to an offer if one was made, as well as being quoted saying: "Argentina should be led by an Argentinian."
Guardiola has won trophies wherever he has managed, with seven league titles from three different leagues to his name. Most recently, he won both the Premier League and League Cup in his second season with Manchester City - breaking a record for the most amount of points won by an individual team in a Premier League season.

He has won everywhere he's been, which would suggest he is the perfect choice for a nation that has hugely underachieved in recent times after not winning a single major trophy since they won the Copa America in 1993. 
With many of their star players like Lionel Messi, Javier Mascherano and Gonzalo Higuaín all heading towards the latter stages of their careers, it looks to be now or never for those who may only have one World Cup left in them, and their chances of winning would surely be lifted should Guardiola take over as manager.