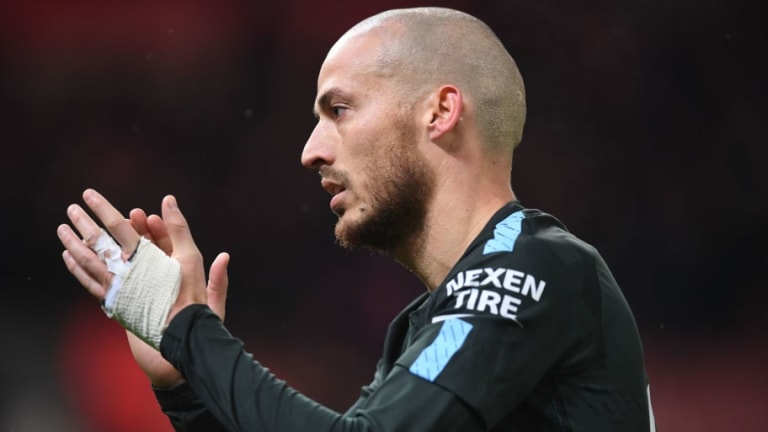 Man City Playmaker David Silva Opens Up on the 'Toughest Months' of His Life in Revealing Interview
David Silva was a troubled man last season. The Spanish midfielder should have been celebrating the birth of his first child midway through the campaign; but instead, he was left to constantly worry over whether or not his son would even survive.
The player was given time off by Manchester City during their busy Christmas period and headed home to look after his family when his son Mateo was born prematurely. And, months down the line, the infant - who Silva said was fighting for his life back in January - is now doing a lot better.
The attacker spoke to Sky Sports this week and revealed that his son is now 'singing and dancing', expanding on the situation in a subsequent interview with the Mirror.
"It is too early to say all is well with Mateo," Silva claimed. "But the good news is that my son is getting stronger and stronger. He has to continue with medical tests every now and then, but at least we can think a little about the future.
"It goes without saying that the first few months after my son was born were the toughest of my life.
"You just don't expect to see your baby fighting for his life. It was a crazy time. Looking back you wonder how you coped. I relied on the strength of my girlfriend and my family - and also my team-mates and my club.
"Mateo was also a source of inspiration because of the way he fought. I was flying from England to Spain, trying to be with my son, trying to train, going back to Manchester to play for City. Mentally it was tough but I had to be strong because I wanted my son to keep fighting.
"Has it changed me as a man? I would say 'no' because I have always understood the importance of family."
Silva also hailed City for their compassion, especially manager Pep Guardiola, who showed empathy upon learning the developments and instructed the player to head home to Spain to take care of himself and his family.
"I have always been well treated by the club, but when Mateo was born prematurely I think it was the time when I realised just how much the club means to me," the Spain international continued. "It was Christmas. It was the busiest part of the season and I knew Pep needed me to play.
"We were doing well in the league, but nothing was decided. It was still a close race at that time. Yet Pep just said to me 'look, there is nothing more important than your family. Take all the time you need to look after your son, your family and also yourself.'
"In the worst moment of my life, Pep and the people at City showed me the kind of love that you can only appreciate when you have been in that kind of crisis. When you see Pep on TV or read his words in the newspaper, it is the portrait of a man who is the ultimate professional.
"But when you work with him, you don't just come to see him as a coach. You learn about his qualities as a man. It is that side of Pep Guardiola that the people on the outside don't get to see. I witnessed the human instincts of Pep and I can tell you that for him there are more important things in life than football."