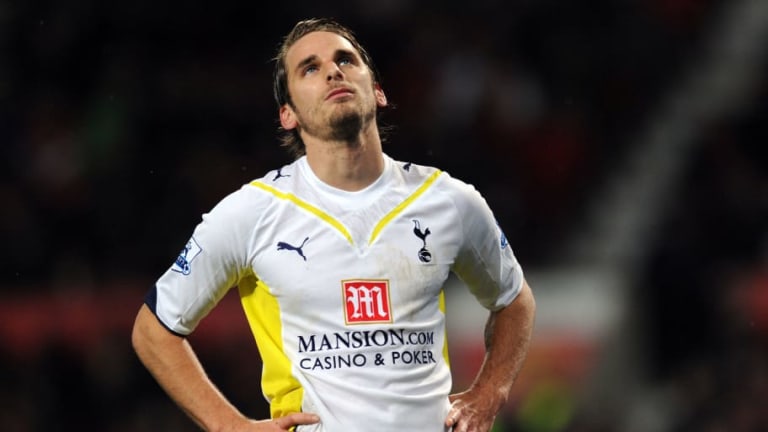 David Bentley Opens Up on the Time Jonathan Woodgate Left a Steamy Surprise in His Washbag
Retired footballer David Bentley is a man known for his outlandish ways during his playing days. Never seeming the most professional type, you can imagine that he's got a few decent stories up his sleeve from over the course of his career...you wouldn't be wrong.
Whether it's winning a £15,000 watch from his agent for kicking a ball into a skip, or going off to Northern Ireland and being a Gaelic footballer for a week - Bentley has done it all. He wasn't too bad at football, either.
Speaking to FourFourTwo in his cocktail bar in Marbella, the former Premier League cult hero has spilled it all - even discussing the time he found a steamy number two in his wash bag whilst at Tottenham...
"I had my car stolen, but the worst was someone sh***ing in my wash bag when I was at Spurs," explains Bentley, opening up on the worst bit of banter he ever suffered.
"I think it was Jonathan Woodgate. I opened it up and there was a big turd inside. I found it funny. Every day, mad things would happen. Once, I walked out onto the training pitch in Ugg boots. Harry (Redknapp) took one look at me and said: "F**k off."
On the subject of Harry Redknapp, it was Bentley's love for pranks that broke his relationship with the managerial legend - admitting that the time he soaked his boss in water after qualifying for the Champions League is what was the final straw.
"He wasn't happy; he thought I was being disrespectful. I did it because we all loved him so much.
"I had played a lot and been involved. I was dropped for the game, even though I had set up goals the week before – he picked Aaron Lennon ahead of me – so I could have had the hump with him but I didn't. I was well happy. We'd done it. 
"I was part of it, and because the whole dressing room liked him, I did him with the water. It got back to me that he wasn't pleased, and that was disappointing because I really like him."