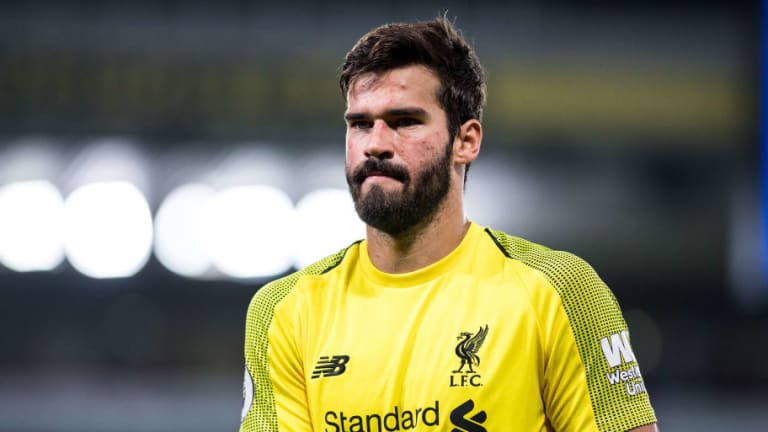 Why Loris Karius' Kiev Nightmare Was a Necessary Evil to Solve Liverpool's Goalkeeper Crisis
As Loris Karius lay dejected on the turf of the Olimpiyskiy Stadium in Kiev on the evening of 26 May 2018, it was impossible to see the bright side of a terrible night for Liverpool.
A whole season's worth of work had been thrown away, in the most literal sense, by the Reds' German goalkeeper, who had gifted goals to Karim Benzema and Gareth Bale as Liverpool slipped to a 3-1 defeat at the hands of Real Madrid.
A medical examination would later find that Karius had been carrying a concussion, but the damage had been done. Karius' confidence was shattered, and Liverpool put the machinations in place to find a replacement. The man they settled on was Alisson Becker, the Brazilian goalkeeper who joined for £67m from Roma.
After his first two Premier League appearances, Alisson had barely been tested, with Liverpool's defence nullifying the threat of West Ham and Crystal Palace. Where was the Liverpool who concede silly goals and draw matches that they should win? In other words, where was the Liverpool that Alisson had been brought in to save?
That team returned with a vengeance against Brighton last Saturday. Dominant throughout the first half, they led thanks to a lovely goal from Mohamed Salah and should have been further ahead by the interval.
For the first time this season, Liverpool lost control of the game. An energetic and enterprising Brighton pushed forward in search of an equaliser, and with a minute to go it seemed they had it. Pascal Gross met a cross from the right with his head and powered it goalwards.
But a brilliant intervention from Alisson, tipping the ball around his post with two firm hands, denied Gross and brought Anfield to its feet. It would have been typical Liverpool to throw away the three points in the dying minutes. Instead, they held on, and had their new goalkeeper to thank.
Yet strangely, it was not this match-winning moment which best exemplified Alisson's importance to the team. It was a moment earlier in the half when he advanced from his goal, beating Brighton's Anthony Knockaert to the ball and flicking it over the Frenchman's head before a calm pass to Virgil van Dijk.
Jurgen Klopp would later admit his dislike for this sort of unneccessary risk-taking, but Anfield loved it. Partly because it was a brilliant piece of individual skill, but also because Liverpool finally have a goalkeeper who can be trusted with the ball at his feet. The rest of the world may have gotten used to sweeper keepers, but it's quite a novel concept for Liverpool.
Karius' performance in Kiev may have been the final nail in his coffin as Liverpool's number one, but it was the way he came back after the off-season which proved that he could no longer be trusted. Mistakes in friendlies against Tranmere and Borussia Dortmund showed that his confidence had evaporated.
Mental strength was always one of the major flaws of Karius' game. He rarely had the trust of the Liverpool fans, but worse still, he didn't trust himself. He would punch crosses that could easily be caught, and produce panicked clearances when a shorter pass was available.
Karius was not a terrible shot-stopper, and he may well have saved Gross' header. But he would not have dared to do what Alisson did to Knockaert, which is why it was so warmly received. To go from a goalkeeper who once turned a goal kick into an opposition corner kick, to one who chips the ball calmly over an advancing winger, is some upgrade.
Alisson knows the risks of the way he plays, which makes his commitment to that style all the more admirable. "I make a dribble or a simple pass, knowing that if I lose the ball near the area the opponent can score," he told ESPN. "I am aware of what I do on the pitch, but I always do it to help the team. That's why occasionally I also boot the ball into the stands."
A top class keeper should also possess leadership skills, and both Karius and Mignolet were found wanting in this department. Goalkeepers need to be able to order their defenders around when necessary, but they cannot command the same level of respect and attention if they themselves are the weak link.
Alisson's confidence extends to this facet of his game as well. In just his second game for Liverpool against Palace, he was seen barking angrily at his defenders when they failed to close down a long-range shot. Clearly the Brazilian is no shrinking violet and will not be afraid to give his defenders a piece of his mind if necessary.
Klopp has claimed that Liverpool would have signed Alisson with or without the Champions League final debacle, but hindsight is a wonderful thing. If Karius had played well in Kiev and Liverpool had won, would Klopp have been so keen to replace a goalkeeper he invested so much time and belief in? It doesn't seem like something he would do.
Indeed, Klopp has even admitted that he considered ignoring Alisson and persisting with Karius just to spite the media who criticised him so heavily. Thankfully, he swallowed his pride and finally made the signing that Liverpool have been crying out for since Pepe Reina left the club.
Football fans will never trade guaranteed short-term success for possible long-term gains, and for now the wounds of Kiev will still smart. But if this was the necessary evil that Liverpool have to bear to finally solve their goalkeeping problems, perhaps that dark night will have a silver lining after all.