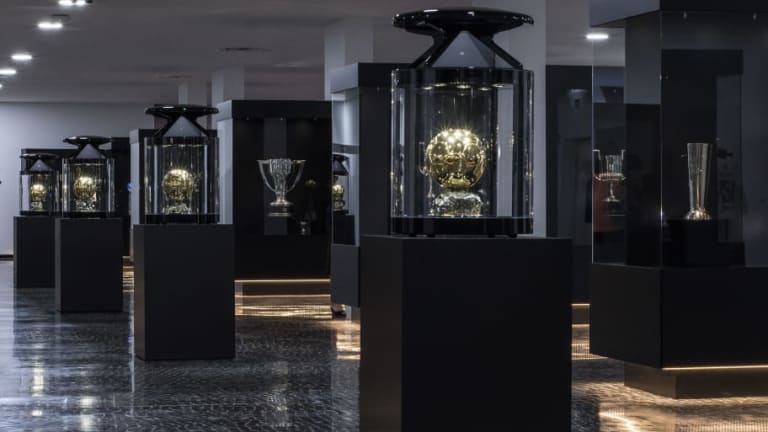 El mensaje del museo de Cristiano Ronaldo tras conocer al The Best
El lugar de la ciudad natal del luso donde se conservan los trofeos que ha ido coleccionando a lo largo de su trayectoria publicó un mensaje irónico alegando que esos galardones no se robaban.
Cristiano Ronaldo era uno de los tres nominados al premio The Best junto a Luka Modric, a quien se le otorgó, y Mohamed Salah. Quedó segundo en las votaciones (19'08%) por detrás del croata (29'05%) y por delante del egipcio (11'23%). Tras la decisión de la FIFA de nombrar al subcampeón del Mundial y ganador de la Champions League como el mejor jugador de la temporada, el museo del luso decidió hacer una metáfora en su perfil de Instagram.
La figura retórica consistió en publicar una fotografía con buena parte de los galardones que el futbolista ha ganado a lo largo de su carrera especificando que "estos trofeos nadie los roba, tienen alarma". De este modo, hace una comparación con el galardón mencionado, insinuando que otorgárselo a Luka Modric es una decisión equivocada porque lo merecía el jugador de Madeira, donde está ubicado el museo.
Lo cierto es que el criterio para adjudicar los premios ha sido extraño, dado que el tercer nominado al The Best no estaba en el del mejor XI cuando, sobre el papel, se le considera el que ha completado el podio de los mejores. Por otro lado, el mejor gol ha parecido una consolación a Mohamed Salah, dado que los tantos del mismo Cristiano Ronaldo en Turín o el de Gareth Bale en Kiev eran de una factura más destacada.
¡No te olvides de seguirnos también en nuestra cuenta de Instagram, @90min_es!