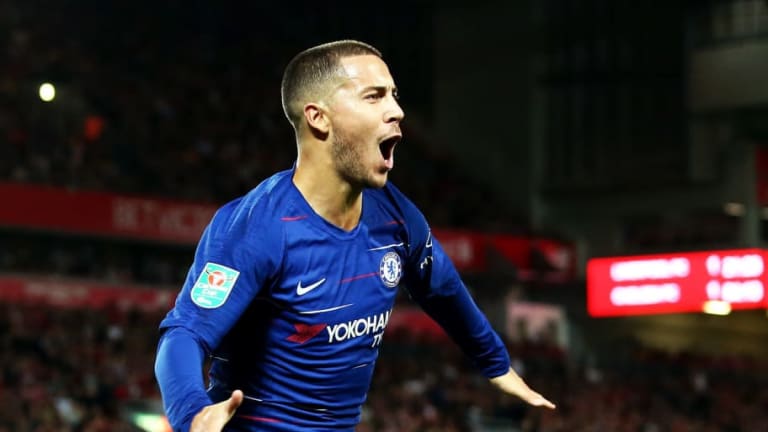 Why Eden Hazard's Liverpool Stunner Cemented His Status as the League's Most Frustrating Player
The early rounds of the Carabao Cup were in full swing this midweek, belting out all the classics with gusto. 
There was the big team knocked out by sheer force of narrative (thanks, Derby), there was the Premier League side's Under-23s absolutely pasting a League Two side into the '8 (EIGHT)' scoreline territory, and there was the inexplicably high-profile, perfectly scheduled big-dog clash before an identical league fixture. 
And in that last one, Eden Hazard did The Thing. 
Cutting in from the right-hand side, he committed somewhere in the region of 356 public order crimes against Naby Keita, Roberto Firmino and Alberto Moreno before trying his level best to decapitate Simon Mignolet. 
It was a good goal, is the point. And it is, in a nutshell, why Eden Hazard is one of the most frustrating players in world football to talk, write or even think about. 
More than maybe all but five players in the world (Lionel Messi, Cristiano Ronaldo, Neymar, Ricardo Quaresma and Fabio Quagliarella, since you're asking), Hazard is capable of the outrageous, the brilliant and the spectacular. Capable of it. Wade into almost any conversation about him, and you'll find half the parties camped firmly in the 'underrated' camp and the other 50% flinging verbal thunderbolts and insisting that the opposite is true. 
And it's kind of...both? Hazard is the most talented individual in the Premier League, and it's not even particularly close. But given that status, given that he's spent the last six years playing in very, very good Chelsea teams, the statistical dominance that his contemporaries consistently achieved has never materialised for him. 
Chelsea fans will - rightly, to an extent - tell you that Hazard's game is about more than numbers. They're right, just the same as the game of...really anybody but a straight-up poacher is about more than just numbers. But as his side's attacking spearhead, he should but putting up more than he is. 
This is a man who scored a goal of the season contender against Arsenal with the sheer unbridled power of his arse, sending Francis Coquelin somersaulting so far that he literally landed in Valencia, who signed him out of social awkwardness. This is a man who was one of the best players at the summer's World Cup, in a team stacked with attacking talent. Eden Hazard is really really good at football. 
But every single season since Harry Kane came into the league, including the time he only played 189 minutes in the first three months of the league, the England striker has more combined goals and assists than Hazard. Four out of four. 
Kane is a statistical juggernaut like few others, but in wildly successful teams (and free scoring ones too, Chelsea only have eight fewer league goals than Spurs in that span) the leading attacking force should be up there at least once. 
Hazard is an exceptional attacking talent but he too often fails to really take games, and seasons, by the scruff of the neck. That's why it's difficult to warm to him as a burgeoning great. Not because he isn't good enough, but because he is - but not quite often enough. Whether it's an end product thing, whether it's him drifting out of games the same way he drifted out of an entire season in 2015/16, there's something missing. 
This isn't intended as a take-down of Hazard. It's not intended as a hit piece. It's just a rationalisation of why, outside of Chelsea's fan base, a lot of people struggle to see him as the player that Blues supporters know he can be. He's outrageously talented but, at 27, shouldn't he be more than just that now?