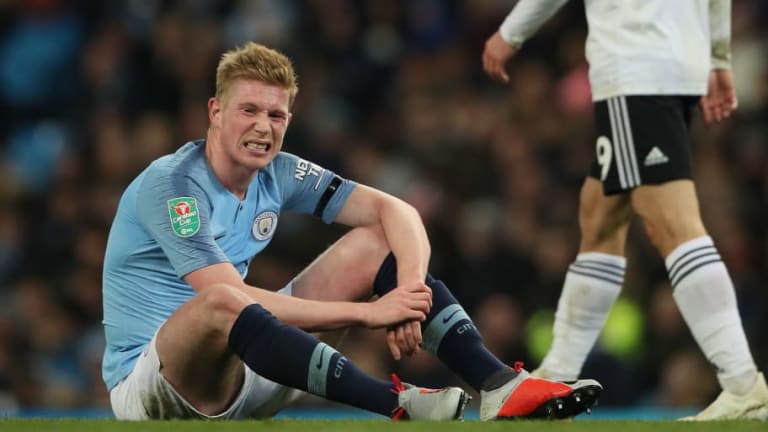 Kevin de Bruyne 'Rules Out' Man City Return for Upcoming Clashes Against Bournemouth and Watford
Manchester City star Kevin de Bruyne is facing a slightly belated return from injury, with the midfielder having 'ruled out' a return for City's forthcoming double header with Bournemouth and Watford.
After suffering a knee injury in the EFL Cup win over Fulham last month, the Belgian had targeted this weekend's match with Bournemouth at the Etihad as his return date, but the Manchester Evening News now report that he has ruled out making a return in that game.
The report also claims it's highly unlikely that he will feature in Tuesday's visit to Watford, though he should be back in contention for the trip to Chelsea next weekend.
The 27-year-old is yet to start a Premier League match this season, after missing seven weeks with torn knee ligaments shortly after his return from World Cup duty in August.
Having been named as City's player of the year for their historic Premier League winning 2017/18 season, they were all too keen to have him back in contention for matches with Burnley and Spurs.
However, his first competitive start in the 2-0 EFL Cup win over Fulham saw him substituted late on, and it was later revealed he had suffered another knee ligament injury which would keep him out for around 6 weeks. 
That brings us to today, where City staff are reportedly reluctant to rush him back after his third ligament injury in three years, due to concerns it could resurface if not properly rehabilitated.
Having scored a late winner in last season's trip to Stamford Bridge, however, it's thought City will be eager to see the influential playmaker feature at some stage in that one, as the game could have serious title implications.