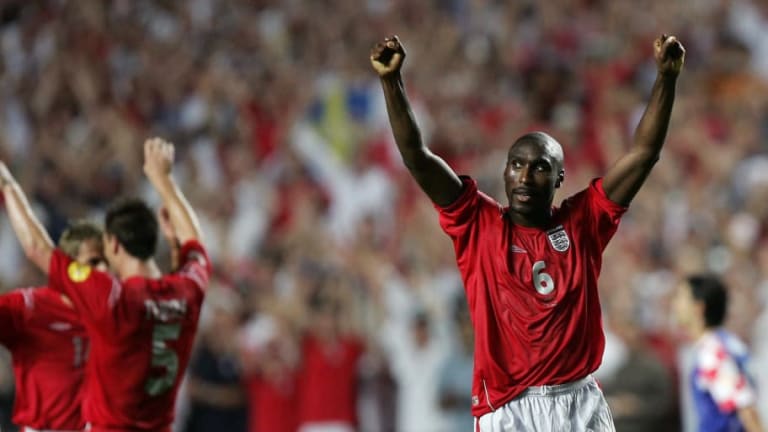 6 of Sol Campbell's Maddest Moments Following Appointment as Macclesfield Town Manager
Sol Campbell is the man of the hour. His name is everywhere you look, his face dotted around the global sphere. 
That's pretty impressive for someone who has merely become the third Macclesfield Town manager this year. But that's not the only impressively unique/weird/crazy thing Sol has done in his 44 (?) years on this planet. 
Here's six of the best.
The Never-Ending Slide Tackle

In a career that spanned almost 20 years, garnered two Premier League trophies and three FA Cups as well as a goal in a Champions League final, Sol's crowning moment remains a tackle he made in the 24th minute of an international against Croatia in 2007.
The sheer athleticism on show, the unstoppable momentum he creates is, to this day, the most remarkable thing you'll see on a football pitch. And it's not just the tackle itself, it's the sprinting back to position after it. Incredible. 
If aliens came to Earth and they were trying to rid the world of the sport, and I had six seconds to convince them of its value to the universe, I would choose that over any goal ever scored. 
The Birthday Mix-Up
I mean, who else but Sol? This is unbelievable stuff, it really is. I still don't how it's happened, or indeed what's happened. Is he 43 or 44? Do we trust the first video or the second video? It's like the two Khrushchev letters in the Cuban Missiles Crisis - kind of. 

Not only was this hilarious, but it also brought to light the existential question of how old are we, really? Are we as old as we say we are, or as old as the internet says we are, or is it just a pointless metric that we should ignore entirely? 
The West Ham Disappearing Act

Campbell's disappearing act at half time against West Ham remains one of the more sadder mysteries of his footballing career.
In his final months at Arsenal, when his talents were clearly on the wane, he was ripped to shreds for 45 minutes by none other than Nigel Reo-Coker and Bobby Zamora, and was at fault for both the goals they scored at Highbury. 
At half time, after asking Arsene Wenger to take him off, the centre back promptly left the ground, and then the country, and didn't returning to training for four days. 
The 'I'm One of the Greatest Minds in Football' Rant
In a rant that invoked Kanye West levels of hubris, who can forget Sol's timeless take on his footballing acumen.
After being turned down for the (wait for the flex) Oxford United job, the 40-something-year-old went off about his footballing intelligence, culiminating in the incredible line: "I can't believe some people, I'm one of the greatest minds in football and I'm being wasted because of a lack of experience or 'maybe he talks his mind too much'."
The Failed Mayoral Campaign

Sure, it was a surprise to see Sol Campbell campaigning for the Conservative Party nomination for the Mayor of London elections. I won't deny it: it was pretty strange. And, clearly, for whatever reason, it didn't go very well. 
But I'm not willing to rule out the prospect of 'Sol Campbell, Britain's Saviour' just yet. I believe in you, Sol, even if no one else does.

The General Instagram Presence

Where would we be as a species without this great man's great Instagram. Frankly, I don't want to know. It's just so rare for someone to film their face so regularly, yet seemingly have nothing to say, so often.
Don't get me wrong, it's still a complete joy. I mean, how can trying to thank Arsene Wenger for his years of service to Arsenal upon his retirement, but getting stuck on how to pronounce 'Merci, Arsene' not be?
Unfortunately, these wonderfully candid insights into the mind of the man, the myth, the legend will probably end now that he's actually got a job. But at least he'll finally be able to show the world his true coaching prowess.

Merci, Sol. Never change. Merci.