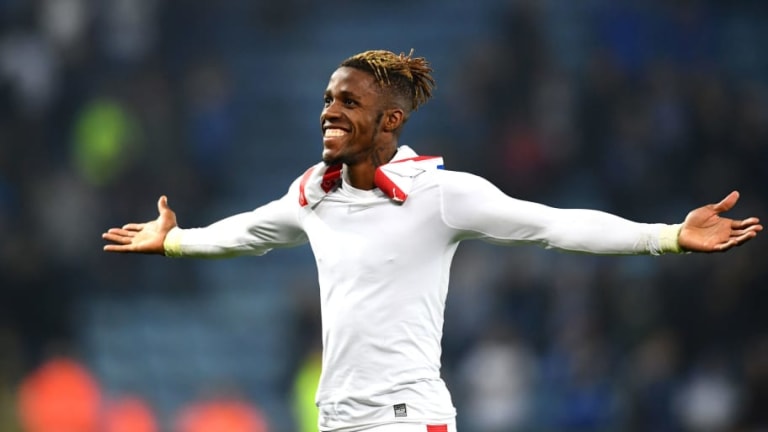 6 of the Best Moments From a Key Weekend in the Premier League
While Carabao Cup final shenanigans may have stolen Sunday's headlines, there was still plenty to enjoy and take away from Friday and Saturday's offerings in a key weekend in the Premier League.

Watford showed they're really Barcelona, Crystal Palace showed they're really Real Madrid(?) and Liverpool and Manchester United showed the world that #passion and #rivalry and huge stakes don't always translate to great games. 
But what were the best moments?
Best "Predatory Instincts"

It was a strange afternoon for Alexandre Lacazette, as he used all his 'predatory instincts' to tuck in Henrikh Mkhitaryan's wayward first-time effort into the net. I use those inverted commas because at first it appeared the Frenchman knew very, very little about it.

But increased scrutiny suggested the opposite, with his body seeming to open up and his right leg motion towards the ball in the faintest of back-heels. So it was settled - excellent goal. But then he sent us all back to the drawing board with a gloriously blazed effort from no less than seven yards. Predator of pretender? You decide. 
Best Assist

Stunningly - and this is when you know a Premier League weekend was good - Mkhitaryan wasn't the only one who snagged an assist from a bludgeoned half-volley. James McArthur had one too. And, arguably, his was better, seeing as it was from further out, but it's not what's won him best assist. 
That label is for the sumptuous cross, after a fake shot, he put in for Wilfried Zaha in the 69th minute to get Crystal Palace back the lead. It was on a proverbial plate for the Ivorian, he just had to smash it home greek style - which would make sense if McArthur was from the Ionian islands, but he's not, he's Scottish. So...
Best Goal

Perhaps harshly snubbed in the previous section, but Abdoulaye Doucoure can take solace in the fact that he's contributed to the best goal of the weekend. Sure, Lacazette might be feeling snubbed at this point too, but we've outlined how he ruined his chances by calling his technique into question.

To be fair, all three of Gerard Deulofeu's goals against Cardiff were aesthetically pleasing, but I've gone with that breakaway second. Because who doesn't love an exhibition of untethered pace, power and then composure, and how could you not love it even more when the assist is a clearing header from an opponent's free kick. Joyous.

Best Save

Which takes us nicely on to best save. Now, I was initially going to go for Virgil van Dijk's courageous headed stop from a Paul Pogba thunderbolt, but that felt like cheating. Goalkeepers get snubbed and blamed so often, I wasn't about to continue that poor tradition if I could help it. 
And then I found it, deep in the doldrums of Watford's thumping of Cardiff, in the midst of Sol Bamba's consolation score. A clawing save from Ben Foster on Bamba's initial header, before it bumbled around a bit and Bamba regathered himself to thwack it home, via the unflattering flapping gloves of Foster. 
The problem is, even though the commentators continue to wax lyrical about the Englishman's save in the highlights, I'm almost certain it's actually just all post and he hasn't laid a glove on it. So, if you've found an angle that shows he has, then consider Foster the winner, if you haven't, give it Virgil till the end of the season. 
Best Diego Maradona Impression

If this had been at the other end of the pitch, and had thwarted a goal instead of creating it, it could've been a welcome contender in the best save category. But it wasn't, it was a canny, conniving handled goal from Javier Hernandez to twist the knife into Fulham's now probably futile survival push. 
But I'd be lying if I had anything but respect for Chicharito here. In fact, I might've put it in best goal contention would it not be morally 'wrong'. In my mind, what he's done here actually takes more skill. I mean, we've seen him hit diving six-yard headers time and time and time again throughout his career, so it was nice of him to mix it up - show a different technique etc.
Nice work, Javier!

Best Penalty in the Three-Penalty Game

And so, we finish with the biggest award of the night. The Best Penalty in the Three-Penalty Game Between Wolves and Bournemouth Award. It's so prestigious, I'm trembling. 
But, don't you worry. There'll be no Green Book Best Picture & Best Original Screenplay, or Rami Malek Lip Sync Battle Best Actor levels off egregiousness. The right man will be rewarded here, and that's Raul Jimenez. Look, I won't lie and say Joshua King's second penalty miss hasn't had any effect on this outcome, because it has. But I will say, Jimenez's penalty was better anywhere. There you go. It's not hard, Academy. It's not hard.