El equipo azulgrana vivió anoche, probablemente, su envite más disparatado en lo que va de curso, además del peor a nivel defensivo del mismo. Después de ponerse dos goles por delante en tres minutos, se dejaría remontar encajando cuatro goles, pero en los últimos compases anotaría otros dos para sumar un punto ante los castellonenses.
La mejor noticia en un once sin Lionel Messi fue Malcom Filipe, que tras una buena conducción asistió a Philippe Coutinho (12') y anotó de cabeza el segundo (15') gracias a un formidable centro de Arturo Vidal. Se iría diluyendo paulatinamente, especialmente al caer al costado zurdo con la entrada del argentino desde el banquillo: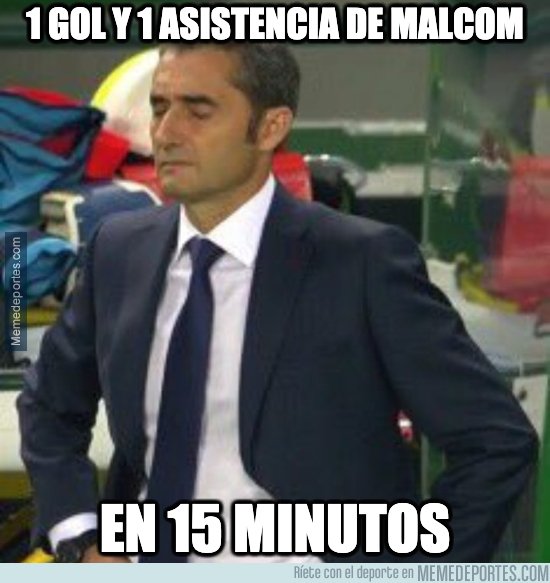 Después de ese principio que parecía encarrilar la victoria se notaron las carencias defensivas de los de Ernesto Valverde, especialmente en el caso de Samuel Umtiti a la hora de vigilar a Karl Toko-Ekambi. Clément Lenglet hizo lo que pudo con el eléctrico Samuel Chukwueze, saliendo victorioso en algún duelo, pero siendo superado en varios. El Villarreal tuvo ocasiones de mucho peligro, pero Marc-André Ter Stegen, que erró en uno de los cuatro goles recibidos, salvo a los de la Ciudad Condal de salir goleados del Estadio de la Cerámica. Se echó de menos a Gerard Piqué:
Con 4-2 en el marcador y la sensación de inoperancia ofensiva, además de la facilidad con la que los locales se plantaban en el área rival, tocó hacer salir a Lionel Messi a falta de media hora para el final. En este tiempo anotaría el 4-3 que hacía creer en sumar, como mínimo, un punto: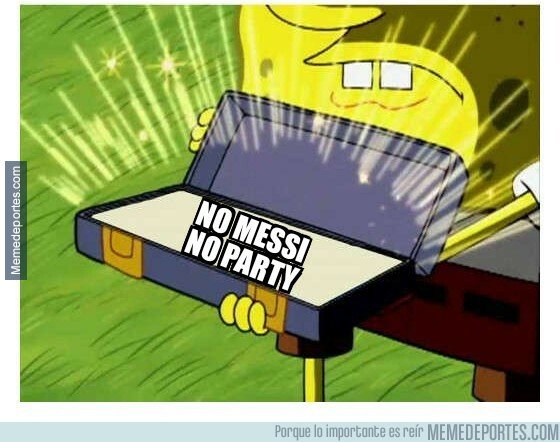 Después de que el de Rosario anotase la falta que reducía distancias en el minuto 90, sería el uruguayo el encargado de sellar un punto en uno de los encuentros más vibrantes del FC Barcelona en esta campaña:
Nuevamente se utilizó el meme protagonizado por Dominic Toretto (interpretado por Vin Diesel) y Brian O'Conner (Paul Walker), extraído de una de las más carismáticas escenas de The Fast and the Furious (2001), donde el segundo personaje se alegra de haber estado cerca de vencer al primero: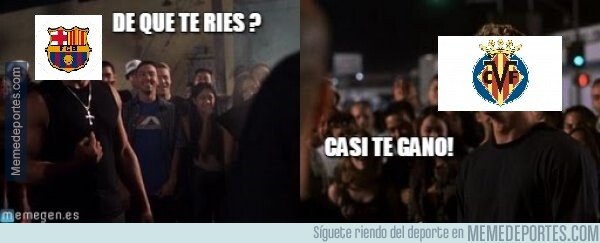 La alegría del Real Madrid si el FC Barcelona perdía, del mismo modo que la del Atlético de Madrid, sería evidente porque podrían haber recortado tres puntos en la única competición que les queda por disputar en esta campaña. Sin embargo, pudieron recuperar dos por el agónico empate de los de Ernesto Valverde. Los rojiblancos se quedan a 8, mientras que los merengues, en tercer lugar, pueden reducir la diferencia a 10 si ganan en Mestalla:
Los memes quisieron reírse de la celebración de los jugadores azulgranas cuando empataron en el último momento contra un equipo que se está jugando mantener la categoría. Lo cierto es que, para el nivel defensivo visto, es motivo de alegría. En estos últimos meses de competición, el FC Barcelona deberá mejorar dicha faceta si realmente quiere ir a celebrar títulos a dicho lugar: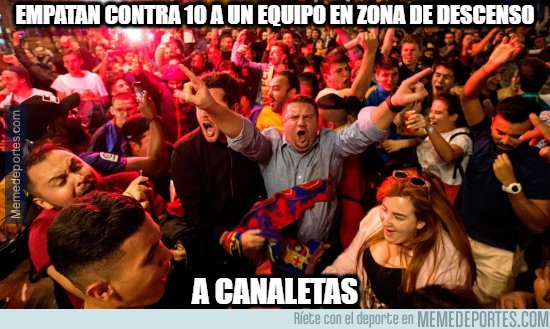 Como hemos dicho anteriormente, los de la Ciudad Condal aventajan en 8 puntos al Atlético de Madrid, que será su rival el sábado en la jornada 31 de LaLiga. Ganar significaría dejar a su principal perseguidor a 11 puntos con 21 en juego, aunque también podría dar el segundo puesto al Real Madrid, que actualmente está a 13 con un partido menos. Los de Zinédine Zidane estarán atentos a dicho envite entre los dos equipos punteros habiendo jugado antes en casa frente al Eibar.
---
¡No te olvides de seguirnos también en nuestra cuenta de Instagram, 90min_es!